This 5 step success plan for business success really isn't rocket science. Follow these easy steps for consistent success in your business.
A little disclosure before I get started, I have included affiliate links in this post. Please note that I only recommend products/services that I use myself.
Before I share the steps I want to share a thought with you about success. I see all too many people searching for some magic formula and there are many willing to sell their so-called magic formula for success for a super high price tag. And don't get me wrong, there are some amazing courses out there that are genuine. I'm a big fan of learning from people who've already achieved what you want. For example, when I decided I wanted to be a full-time blogger, I joined Elite Blog Academy because I considered it to be the best blogging course available. But my advice to you is to follow these steps and invest in specific areas that you need to learn about. Such as learning about SEO or how to use Pinterest to market your business.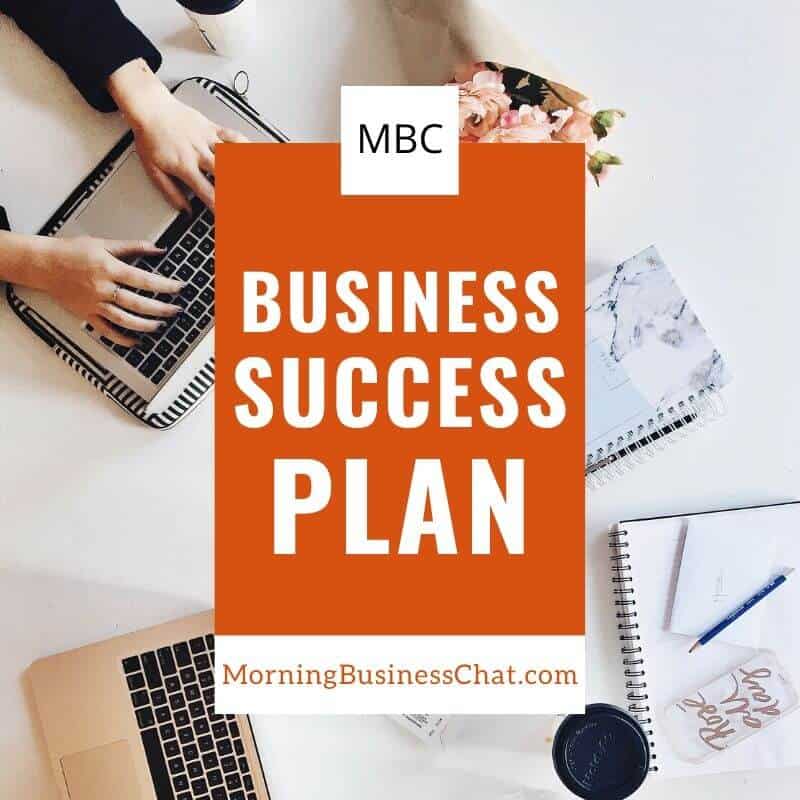 Okay, now let's take a look at the 5 step success plan.
1. Get super clear about what you actually want to achieve
I know this sounds basic but so many people don't take the time to get clear about what it is they really want to achieve, instead, they just aimlessly go after the next sale without being clear what that sale actually means for them. If you haven't already, I encourage you to download the free Ideal Business Workbook. This will help you get clear about what success really means for you personally and then you'll know exactly what you want to achieve. Now, this could be your ultimate business, what you want to achieve in the next 5 years or the next 12 months.
If you were going on a journey, you'd have a set destination. You wouldn't have to stay there forever once you reached that destination and the same is true for this step in the success plan. Just know what you want to achieve and by when.
Here's an example. When I decided I wanted to stop offering in-person coaching and become a full-time blogger I gave myself a year to achieve that goal. I knew I needed to be making a consistent income and I knew the minimum income I could live on. That was the first thing I wanted to achieve on my blogging journey. Of course, once I'd achieved that, I asked myself, What do I want to achieve next?
2. Set your goals
Once you've got clear about what you want, set your goals. In the previous example, I got clear about what I wanted – To be a full-time blogger. My GOAL was to learn how to generate a livable income from blogging within 12 months. A bigger goal would be to create a 6-figure blogging business within 5 years.
Make your goal SMART – Specific, Measurable, Achievable, Relevant (to your ideal business), time-based (when you want to achieve the goal by).
3. Break it all down – DOable chunks
Big goals can feel exciting but they can also feel really overwhelming. Let's say you want to write a book over the course of a year and it needs to be a minimum of 52,000 words. That suddenly becomes less exciting and more overwhelming.
But break that down to My goal is to write 10000+ words every week for a year and that seems a lot more DOable, right? Now, this is a very simplified example but you get the idea.
You may have a goal that you set at the beginning of the year and then at the start of each month, you can ask yourself, what can I work on this month to achieve my yearly goal. Look at how you can break that yearly goal down into a manageable chunk that you can complete in a month. SMART goals are a smart idea. They've been proven to be effective. No need to reinvent the wheel here folks.
4. Create your action plan
Okay, you've got your manageable SMART GOALS, now what? Now it's time to create your action plan. Let's say you run a networking business and you want 10 new people to join your team in the next 3 months. Your action plan could include. I will speak to at least 10 new people this week about the business opportunity. I will attend training to learn how to encourage people to join my team…
A great question to ask is "What action steps do I need to take to achieve my goal of…?" As long as you are clear about what you want, this step should be easy, even if that next step is to ask someone what I need to do to make this happen.
5. Take the action
This one's a no-brainer. You've got to actually take the action. I'm going to put my hand up, I love goal setting but I still sometimes set goals, give myself a deadline to achieve the goals and then it gets to that date and Oops, I didn't achieve the goal. Almost always when I look at what happened, it's because I failed to take action to complete the goal. If you're sticking to the SMART GOAL rule – Specific, Measurable, Achievable, Relevant and Time-specific then I'd say the biggest reason for not achieving a goal is not taking action (or rather not taking specific action, consistently that actually ties into the goal you're trying to achieve.
Success plan for business – Recap
See, I told you it wasn't rocket science. The only thing I want to add to this list is to have absolute belief in yourself and your business. Let's do a quick recap.
Get clear about what you want to achieve – Download Ideal Business Workbook
Set your SMART Goals
Break your goals down into manageable chunks
Create your action plan
TAKE THE ACTION needed
BELIEVE!
I hope you've found this post really helpful. Don't waste time overcomplicating life or your business. Check out the Simplicity Goal Setting Download.
Other posts you might find interesting reads…
Please share this post wherever you can to help me reach more people. Thanks always. Wendy