Yes sometimes I need to get tough and this is something I need to ask "Are you making excuses in your business?
It's tough love time today. If you can't see that your business is moving in the direction that you want, moving closer and closer to your ideal business, then this post is for you.
I ask this question not because I'm mean, instead, it's because I genuinely care and because I've been there myself. I've made all kinds of excuses that have blocked me from achieving the business success I wanted.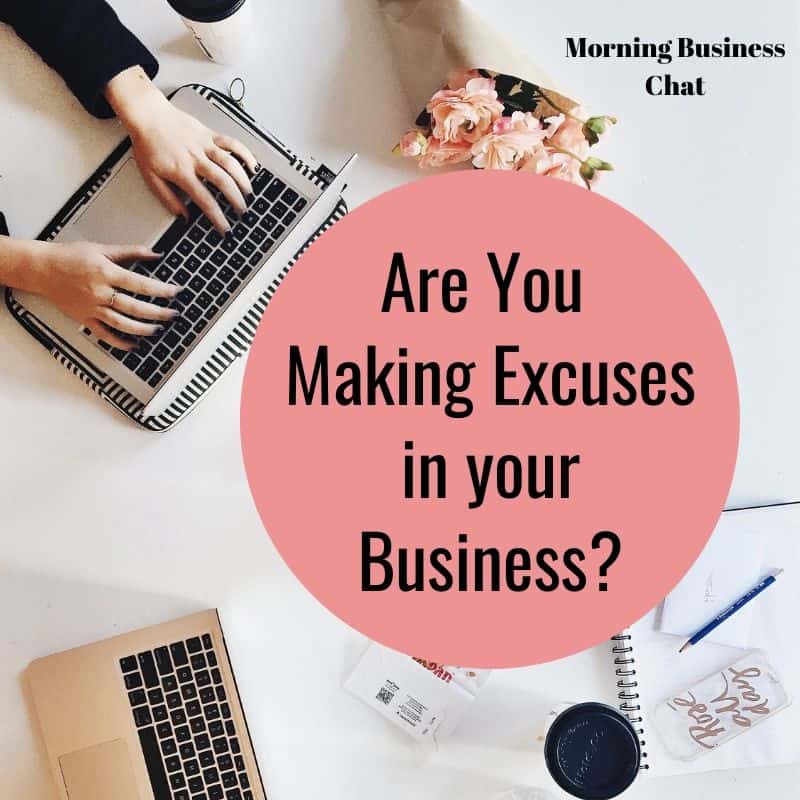 Are you making excuses and blocking success?
Do you recognize any of these statements?
I didn't get the blog post done this week because I didn't have time?
I didn't complete the course, something else came up and I didn't get time to work on it
I didn't make the call, I didn't want to bother them
I didn't set up the website because I can't decide on a business name
There are so many excuses and I see this kind of excuse holding people back all the time.
We often set up our business and treat it like a hobby (I did this). We want to have our own business, but we have this idea that because we don't have a boss we can choose our hours.
This is true and one of the things I love about my business, but we need to treat it like a business. You need to hold yourself accountable.
That, in my opinion, means 5 things…
Get clear about the business you want to build – Download my Ideal Business Workbook for clarity.
Set yourself clear business goals
Create a clear plan of action
When it's work time – WORK!
Be consistent and commit to your success
I've shared links for further reading on the first 3 points but I want to expand on the last two – When it's work time, work and Be consistent and commit to your success.
When it's work time – WORK!
This doesn't mean I recommend working round the clock or even working the average 8-hour workday people who are employed work.
In the early days especially I recommend you set yourself work hours and stick to them. You can be a little more flexible later on.
I'm a big fan of working smart rather than simply working long hours. This is where clear goals and a clear action plan come in. With these in place, you will know exactly what to focus on whenever it's work time. Even if you only have 1 hour to dedicate to your business, you spend 1 hour working on something that really matters and will move your business forward.
Recommended download – Simplicity Goal Setting This will help you to get clear about 8 key areas of your life (including your business) freeing up time and energy for the things that are most important to you.
Be consistent
I am a firm believer that it's the things we do consistently in our business that lead to long-term business success. Using your goals and action plan, keep focused, stay on track, keep showing up and taking that action over and over again. I see so many people bouncing around from one idea to the other and never really moving forward and giving up too quickly.
Recommended reading Stop grasping at straws and create a plan of action
Commit to your business success
Make a real commitment to yourself and your business. This means that you need to learn to say "NO" to things if they do not serve your business well.
Commit to being productive in your business – Goals, action plan and I encourage you to focus on doing the most important tasks first in your business day.
I've seen people work just a few hours a week who produce more and are more effective in those few hours than some people who claim to be working full time in their business. Remember, work smart. And I'll say it again. When it's work time, work.
Whatever you do during your work time know why you're doing it and what you want to achieve. Also, what is a priority for one business could be a time-waster for another business. So, make sure that you are really clear about the business you personally want to create.
Are you self-sabotaging?
Many of us unconsciously self-sabotage. I still do this from time to time. Thankfully I've learned to spot this quite quickly now. Let me give you an example: We have this thought in our head saying "Who am I to think I can teach people about this? People will laugh at me! People will think I'm a joke. It's not good enough…" This kind of mind chatter comes from limiting beliefs. Sometimes we're not even aware of these beliefs, but I see them playing out in so many businesses.
We don't create that blog because we're afraid no-one will read it or worse still people will read it and think it's awful.
We don't create the course because we believe we're not smart enough or talented enough.
We don't tell people about our business because we don't really believe in ourselves.
And the list goes on.
So how do we tackle these beliefs?
Today I'll share three techniques with you that will help – EFT, affirmations and hypnosis.
Affirmations are positive statements that can either affirm something you want to continue to be true for you or to help attract something you want to be true for you. An example is My business is a huge success. I encourage you to read 21+ Empowering affirmations for business success.
EFT – Emotional Freedom Techniques is a fantastic technique to help release resistance, limiting beliefs, energy blocks. I recommend daily business EFT tapping to really keep your energy flowing and your thoughts super positive. I have a collection of EFT for Business posts here on the blog.
I'm a huge fan of Hypnosis Downloads – I play mine at the end of the day as I fall asleep I find that they really help me to reprogram old habits and beliefs and the added bonus is that all I need to do is close my eyes, relax and listen. Check out my recommendations for Hypnosis Downloads for Business.
Try the above techniques. I recommend you practice them daily on business days for a minimum of 30 days.
Productivity and clarity exercise
Take a pen and paper and write down all the things you want to do in your business.
Next, ask why haven't I completed this yet? You may have valid reasons why you have not achieved these things, but be honest, completely honest, if you are finding ways to avoid doing them or prioritizing the wrong things at the wrong time, write it down.
Being aware is the start. Actually writing it down makes it real. It means you've acknowledged what is happening.
Finally, write down what you are going to do from now on.
Here's an example:
I want to produce an online course.
The course will take me a total of 10 hours to complete in full if I work at it solid start to finish.
How long has it taken me so far? 3 months!!!!!
Why haven't I done it?
I put it off.
I prioritize other things that seem easier.
I say yes to going out instead of working.
….
Again I've done this.
For me, it came down to saying NO to going out when it was my time for working and making it a priority to commit to working at least 1 hour each day on the course.
I also needed to release any doubt I had (limiting beliefs), I did this by practicing EFT consistently, consciously replacing my thoughts and I also used hypnosis downloads to help me reprogram my beliefs.
My aim is always to help you to create a business you love and one that is successful for you. So I encourage you to ask this question, even if it's hard for you.
Are you Making It Happen or Making Excuses?
I hope you've found today's post helpful. Please share if you have and as always, ask if you have any questions.
Wendy
Download recommendation Law of attraction business planning pack.