As we fast approach the end of the year, I wanted to share a round up from the blog with you.  This year I proudly qualified as an EFT Master Practitioner (2104).  I had some wonderful EFT training during my law of attraction practitioners training back in 2010 but this new training has taken my EFT abilities to a new level and I'm delighted to be able to help my clients even more effectively now to clear beliefs, negative emotions, blocks…
This was my proud moment when I received my certificate.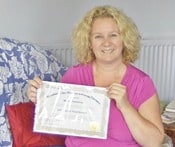 Of course I still remain highly focused on the law of attraction.  I'm finding more and more people are being drawn to me because of my real life, no fluff approach to using the law of attraction.  My intention is always to keep things real for people I work with so that they effectively use the law of attraction to create the things they want, rather than filling their heads with lovely wishy washy dreamy ideas of how the law of attraction works.  This is super powerful stuff and used properly changes lives.
Here's my law of attraction round up of the year.
And here are my top 10 blog posts for the year. I hope you like them
EFT and the law of attraction
Does the law of attraction work for children
It's time to quit moaning and SHINE You are amazing!!!
It's been a wonderful year.  Of course there have been a few challenges along the way and that's okay.  It's helped me learn more about myself, the life I want to live and the business I want to offer to you.
What to look out for in 2015
I'm carrying on with the wonderful Gratitude Celebrations we started in November.  I think this is such a positive and enjoyable project that I hope you'll get involved in.
I'll be working on greating more courses to help you create a life and business you love.
I might get another book out, I'm thinking Time Management, What do you think? Check out my books here.
And of course I'll be helping people privately through my one to one coaching, both here in Lincolnshire and worldwide.
Okay, all that's left for me to do, is wish you a super happy 2015.
Love and happiness
Wendy xxx