As a law of attraction practitioner, I have come to understand just how powerful gratitude is in our life and business. For those of you are new to the idea of the law of attraction, let me give you a really quick run down.  The law of attraction draws to you that which you focus your attention on the most and that which you are a match for.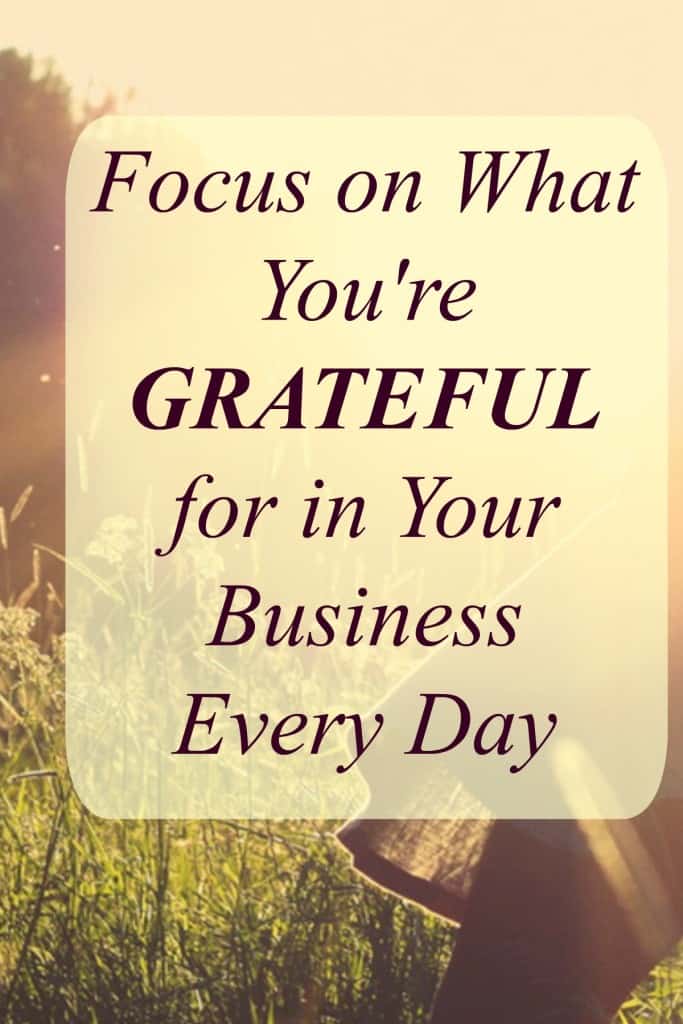 LEARN MORE ABOUT THE LAW OF ATTRACTION (Free 5 part video series)
There are 3 key steps in the law of attraction process.
Clarity
Raise your vibrations
Allow
I want to focus on raising your vibrations just for a minute so that you understand why gratitude in your business is so important.
Law of attraction and gratitude
I'm not going to go too deep into talking about the law of attraction other than to say that the way we monitor our vibrations (the energy we are sending out) is through the way we feel.  The energy at any given moment is either POSITIVE or NEGATIVE.  The idea is that when you feel negative, you are a match for negative things coming into your life.  When you are feeling positive, you are a match for positive things coming into your life.
So it's in our best interest to feel positive as much of the time as possible.
One of the easiest ways to stay positive and indeed switch from negative to positive quickly is to focus on GRATITUDE.
Gratitude is what I call our SUPER POWER EMOTION
Using the power of gratitude in your business
Okay, so let's do a little recap.  Gratitude is a very positive emotion.  The law of attraction tells us that when we feel positive we are a match for drawing more positive things into our life.
[tweetthis]What we focus on expands[/tweetthis]
So let me share a few ideas of how to add more gratitude into your business day.
Keep a gratitude journal or gratitude list.  At the end of each business day, you can sit down and make a few notes about everything you're grateful for. For example, people who have helped you throughout the day, compliments you've received about your business, sales, new leads, completing a project, getting tasks completed, money coming into the business…
Focus on being grateful for what you already have.  Maybe you have a website/blog that you're not entirely happy with right now.  Rather than focusing on it not being right, focus on being grateful for having a website or blog as a starting ground knowing you can change it in the future.
Use gratitude to increase sales or new clients.  If people aren't getting enough sales or new clients the tendency is to focus on "Not Enough" in terms of the law of attraction, by focusing on a lack of something, you are attracting what you don't want into your life.  Instead, focus on gratitude, for every single client you already have, every person who even shows an interest in the business, every amount of money coming into the business.
Keep that thought in your mind ~ What you focus on expands.
Here are some of my favourite gratitude quotes.
Develop an attitude of gratitude, and give thanks for everything that happens to you, knowing that every step forward is a step toward achieving something bigger and better than your current situation.  Brian Tracy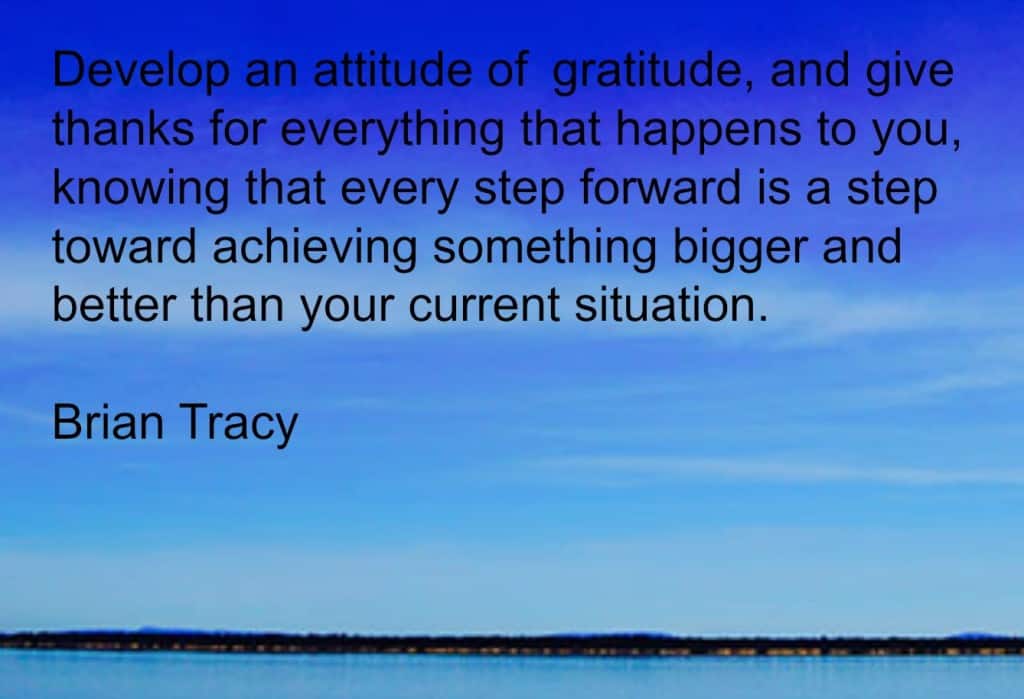 Gratitude is the healthiest of all human emotions.   The more you express gratitude for what you have, the more likely you will have even more to express gratitude for.  Zig Ziglar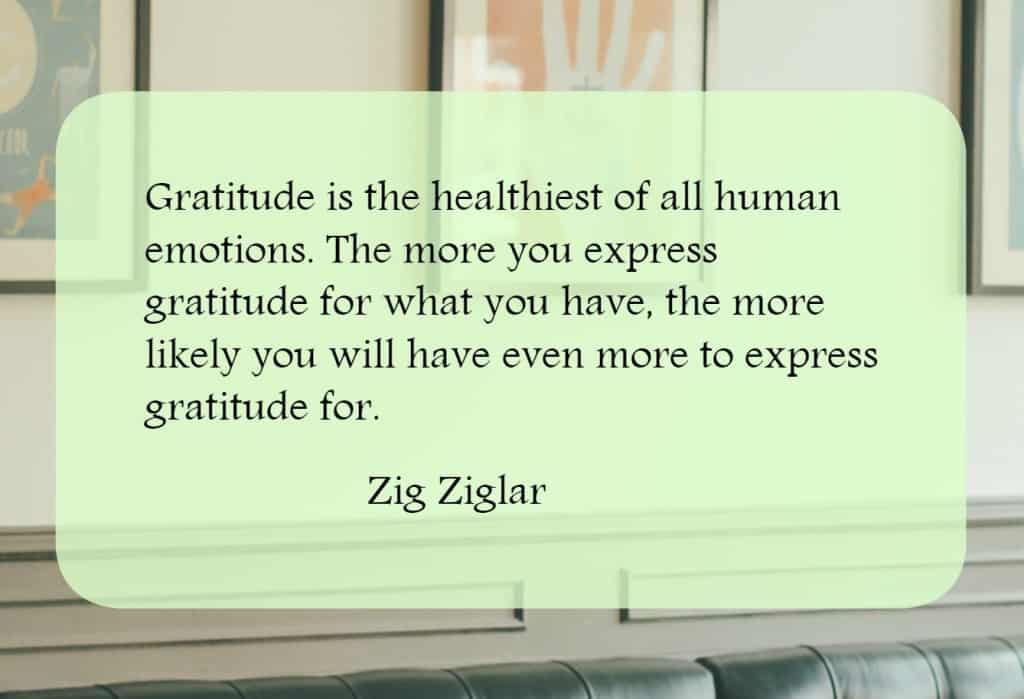 When we focus on our gratitude, the tide of disappointment goes out and the tide of love rushes in. Kristin Armstrong.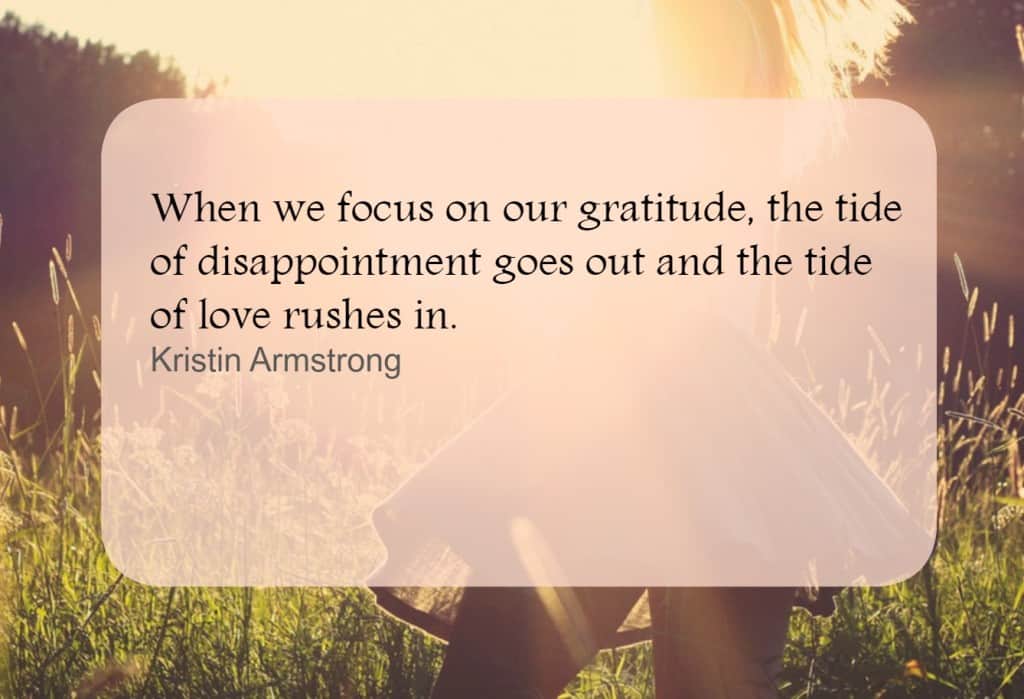 Whilst these quotes talk about life, the same rules apply in your business.  As business owners, it's really easy to focus on things like social media, marketing your business, networking, creating contents, sourcing products… dealing with the day to day running of your business.
However, what I've learned in my own business and through working with many clients over the years, is that having the right mindset is also important.  With the wrong mindset, everything is against you and you'll find yourself sabotaging yourself and blocking your own success.
Try adding more and more gratitude into your life and your business and just see what happens.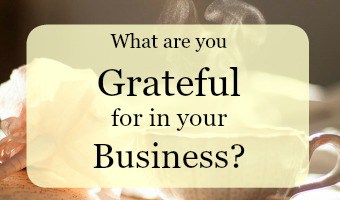 So my question to you today is what are you grateful for in your business today?  I'd love you to go ahead and share a few things in the comments below.
Wendy