Almost every day I read or hear the question "What's your WHY?"
I hear a variety of replies too.  And it's a question the vast majority of business coaches seem to ask but it's a question that doesn't sit so well with me.
I don't know if it's just me that struggles with this question or whether you do too.
For me, I tend to ask what are you passionate about?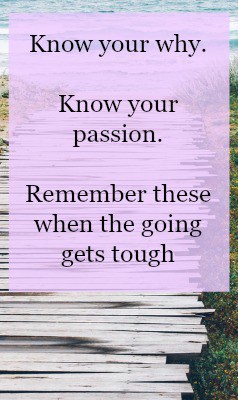 What's your why?
Okay, let me answer this honestly.  My bottom line why for doing what I do here on this blog and in my business is to make money.
Okay, no hate mail please.
I told you I was going to be honest.  At the time of writing this post, I'm a single mum with rent to pay, bills to pay and food to put on the table as well as all the other essentials like clothing, haircuts and yes doing and having some nice things.
This is not a hobby for me, it has to pay.
That for me is my why.  I want to be able to provide for myself and my son.
Now, of course, there is more to it than that, but this is MY bottom line why?

Is it anything to feel embarrassed about?
I've talked about this whole "What's your why?" question a fair bit over the years. And I've heard some really noble replies I can tell you.
I've heard people say, I want to make a positive difference in the world, but they're broke and up not being able to carry on with their business and follow their heart.
More than a few times I've felt embarrassed to say "My why is that I need to make money."
Of course, I've seen as many people, who just do what they love and the money rolls in.
I've heard things like, I don't do it for the money and I've had people tell me I shouldn't focus on the money, as if it's something to be embarrassed about or ashamed of.
Well I for one am not embarrassed or ashamed.  I'm 100% proud of myself for being able to provide for myself and my son.
This is a WHY I can be extremely proud of and I can tell you, it's pushed me on more than anything else could have done.
My why is personal for me and your why needs to be personal for you.
What's your why? Your real bottom line why?
Now let's talk passion
Okay so we've already established what my why is.  The reality is I could make money doing all kinds of things, but I wouldn't go out robbing banks or doing things that I didn't believe in.
My passion is what get's me out of bed day in day out, it's what allows me to work when others are clocking off after 7-8 hours, it's what has me awake at 2am in the morning writing down the latest fantastic idea.
My passion is helping people, learning from others, sharing business tips, social media tips, talking about things that I come across that I love that help me in my business, talking about other fantastic businesses and supporting business owners through my blog, YouTube channel, social media…
My passion is writing, so my blog is always going to be something I absolutely love doing.
I'm passionate about supporting genuine people and helping them build a business they love.
I'm slightly obsessed with social media, especially Pinterest, Facebook and twitter.
I'm passionate about having my own voice and doing things my own way.
I'm passionate about always being around for my son and being a great role model for him.
I really want to hear from you on this subject. What are you passionate about?  What's your bottom line why?
Wendy
P.S I really don't think there are any right or wrong answers here.