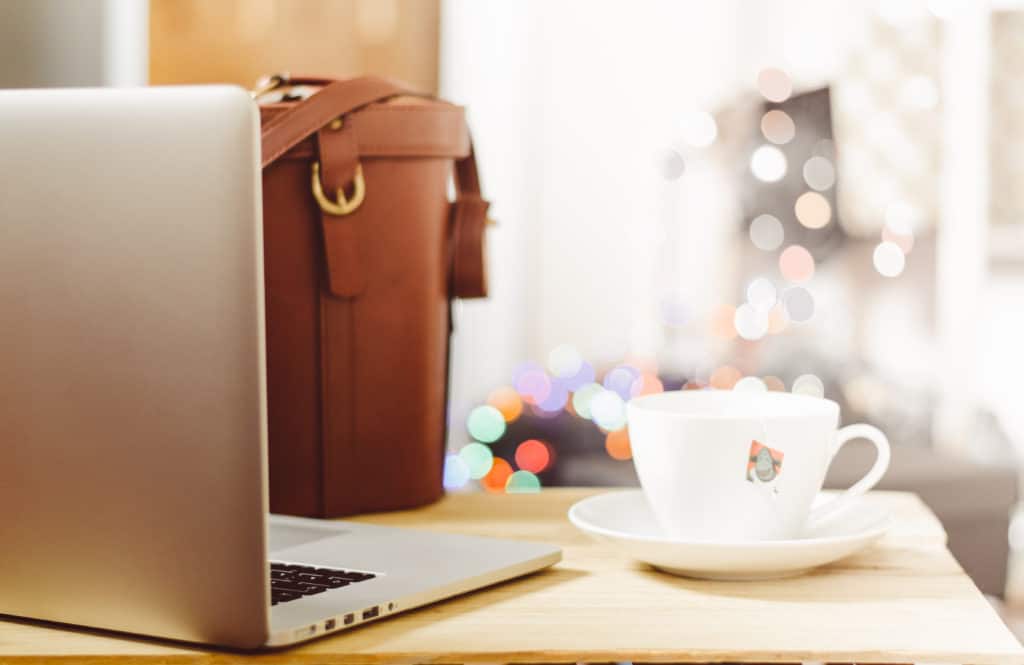 I'm loving Viraltag for scheduling Pinterest, twitter and Facebook (it does more, but this is what I'm using it for so far)
So, over the past few months, I've been experimenting with a few different scheduling services.  I particularly want to be able to schedule my Pinterest Pins.  Pinterest has gone crazy for me this year. Towards the end of 2015 I noticed that I was starting to get consistent traffic coming from Pinterest and I wasn't really doing that much to make it happen.
In 2016 one of my biggest focuses has been to increase my blog page views and I knew Pinterest was my best chance to do this.
So in this post, I'm going to really focus on showing you my Pinterest stats and giving you a few tips to make the most of Viraltag – Plus if you use my referral link, you'll receive  $15 credit.
From 650 monthly page views to 22,101 in 12 days
Oh my goodness, I knew the page views on the blog had really gone up this year, that was my goal.  But, I have to tell you, it really is a good feeling when you look at it like this.
January 2016 total page views – 650
November 2016 page views – 9280 (my 2016 goal was to reach 10,000 monthly views, so I was pretty happy with this)
December 1st – 12th December (midday) page views – 22101
22,101 in 11 and a half days.
And look at that massive jump.
Okay, so let's get real, feet on the floor for a moment.  Yes, there are bloggers out there doing well over 22,000 a day, WELL OVER!!!




But, my goodness, this is massive for me.  I'm on track to do  50,000 in December.  I will be over the moon with that result.  And just imagine what's going to happen to the growth of my blog next year.
Note.  I began my FREE trial with Viraltag right at the end of November 2016.
What is Viraltag?
Viraltag is a social media scheduling service.
You can connect various social media sites – Facebook, twitter, Pinterest, Instagram, Tumblr and LinkedIn.
I'm focusing on Facebook, twitter, and Pinterest, though I hope to get Instagram posts scheduled before Christmas too.
You can grab a FREE trial and try it out for yourself.
To connect your social media accounts, simply click on accounts and choose which accounts to link up.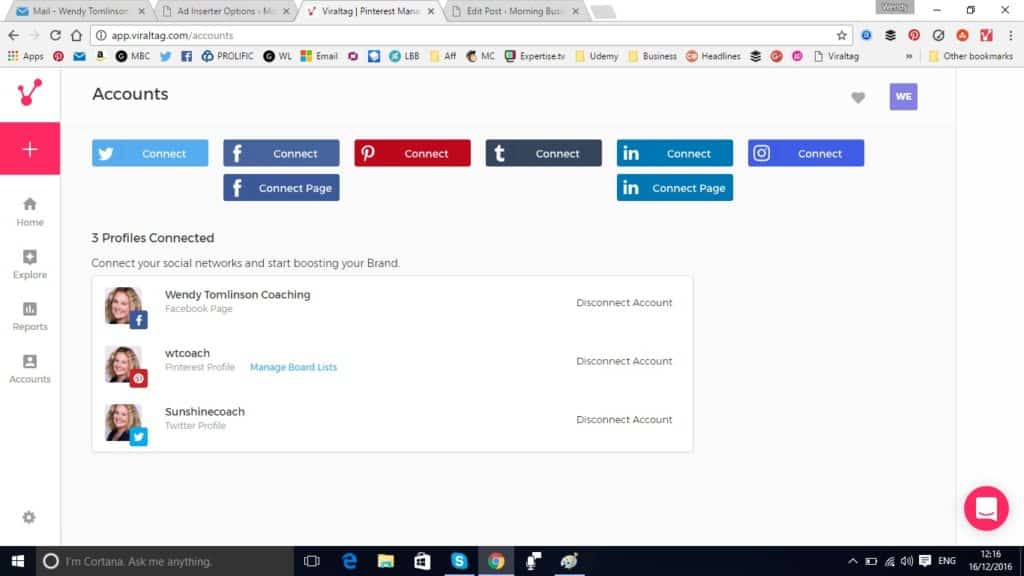 The key things Viraltag offers.
Schedule postsSet your posting schedule so that the magic happens on autopilot
Set your posting schedule so that the magic happens on autopilot.
As you can see below, I've got posts scheduled on Facebook, Pinterest and twitter.  By clicking on the individual social media icons, you can see the scheduled posts for each.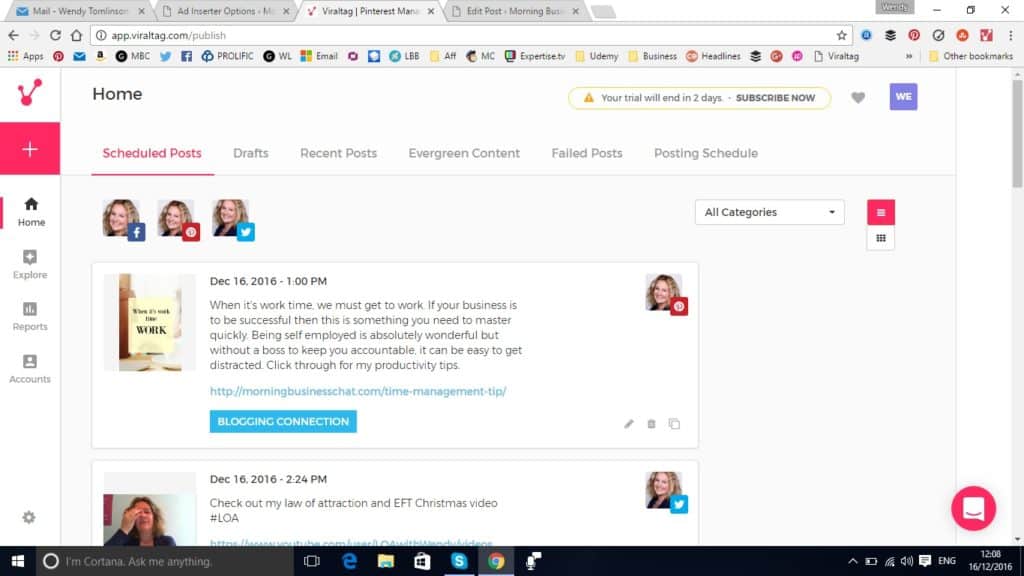 Set key posts as evergreen posts.  This means that if you have a slot without a scheduled post, Viraltag will pull up one of your evergreen posts automatically. So some Pinterest groups allow for repeat pins.  Obviously, you don't want to be pinning the same pin too often but this neat little feature ensures that if ever you haven't got pins, tweets… scheduled, then it will just automatically pull up an evergreen post.
Another feature I quite like is Explore. It's always a good idea on social media to share other people's content.  If you click on explore, you can find images to share right from Viraltag. Just click on anything you want to share and then press add to the queue.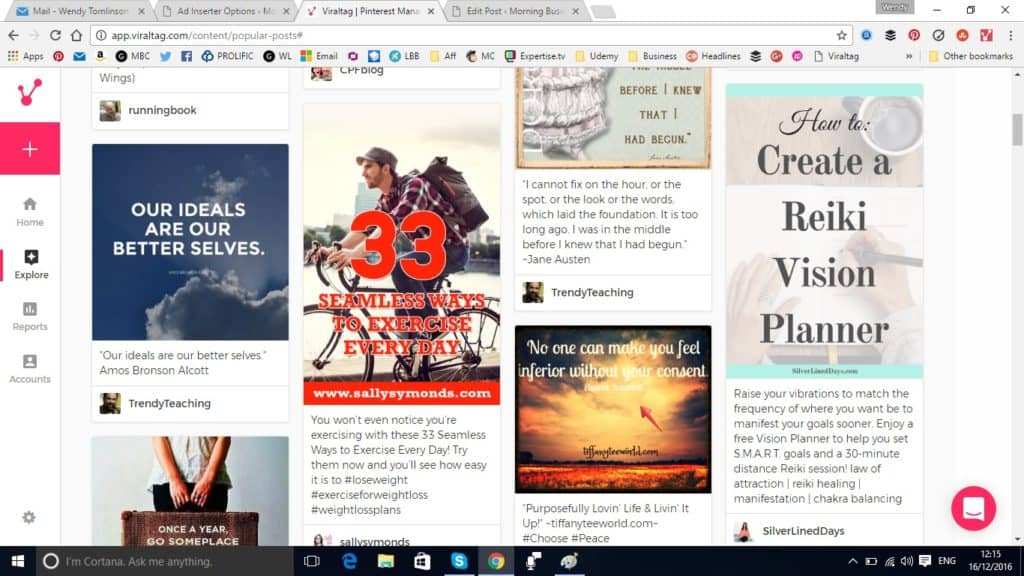 IMPORTANT TIP: Before you do any scheduling, make sure you've got your posting schedule set up exactly as you want it.  
24-hour scheduling
I'm in the UK, but I have blog readers all over the world and that means I really want to be posting 24-hours a day. As much as I like to think I'm Wonder Woman, this is a stretch.  So I definitely benefit from a scheduling service.
I am pinning to various boards throughout the day, sometimes several times an hour.  My pins and other people's pins.
I think the results speak for themselves in the page views numbers I shared earlier.
As with all social media, it's much better to have your content spread out throughout the day rather than a whole load of pins all at the same time.
Impressed with support
Since signing up I've found the support to be really good.  I've had a good (not too many) amount of emails guiding me and supporting me.  I've also had a few questions as I've been trying out this service.  There's a chat box on site where I've always received excellent support quickly.  I think this is really important.
So there we go, as you can tell, I'm impressed with this service.
If you'd like to try it out for yourself, make sure to use my referral link and then you'll get $15 credit if you decide to subscribe.
Wendy