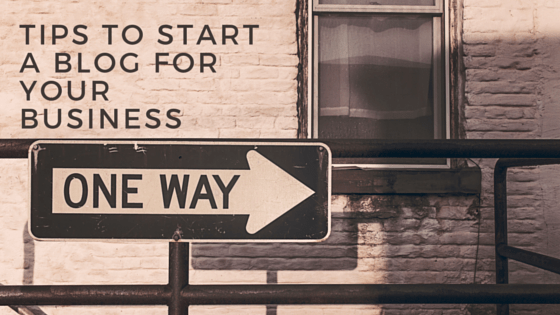 Many of the small business owners that I speak to talk to me about blogging and something I hear a lot is, I feel I do need a blog for my business, but I just don't know where to start.
So, tell me, do you have a business blog, do you want to start a business blog, do you already have a business blog, but you don't really feel you're making the most of it? Or maybe you've got an amazing business blog already and would love to tell us about it.
If you're one of the people who have already got a good blog thing going, go ahead and tell us about it in the comments.  Tell us who you are, what your blogs about and share the link.  I'll come and say "Hi"



If like so many, you're still struggling with the idea of starting a blog and making it work for you I have some tips that have worked for me.
Get a WordPress account
Now I have to tell you, I'm not a techie person.  But one thing I've learned over the past 5 or so years of blogging is WordPress sites are the best option (in my humble opinion).  I've tried other blogging platforms and find WordPress the easiest and most effective to use.  Most of my business buddies would strongly agree.
Don't go for the freebies.  They work okay for a while, but you'll almost certainly soon outgrow them.  I did.
Have faith in yourself that you CAN DO THIS Business Blogging thing and invest in hosting and a domain.  I use GoDaddy for both.  They just make the whole thing so easy.  Check them out and see what you think.  I use the managed hosting package and love it.
Okay, that's all I'm going to say about that, as I said I'm not very techie, so there are loads of other people who can give better advice. My friend Damion Elson is a great guy to get WordPress tips from. I just wanted to share with you what's worked for me.
Just go for it and create your business blog
Seriously, if you're waiting for a right time or more time, forget it.  Just go for it.  And here's what else I've learned, you LEARN as you go along, so you really don't need to aim for perfection on your first (for first hundred or so) blog posts.
I get so super frustrated when people have these ideas to start a blog and then they don't do anything with it.
Be realistic
Oh dear, I said it.  I really hate telling anyone to be realistic.  It's just so not who I am. However, when it comes to blogging, I do want to say this to you.
Why?  Because again, I see so many people start a blog and they've got some pretty great content, but because they don't get 100's of comments, likes, shares, views in the first week or so they give up.
Blogging is a long game.
Sure some people write a few posts and they hit the jackpot or Blogging Champions status (okay I made that bit up about blogging champions, I just liked the name).
Most people take a good amount of time to have much success with their blog.  You want to be looking at months even years.
Of course, there are people out there who can help you speed that process up and it does depend on how many posts you add and how good they are.
Learn about blogging from the people who really know what they are doing.
I mentioned earlier in this post that I've been blogging for around 5 years.  I've made a good few mistakes in that time I can tell you.  I wish I'd have invested my time into learning back then, I'd have a 5-year-old blog to fall back on, but then again, a lot's changed in 5 years in my business and it's all been a learning process.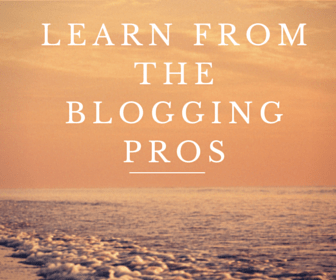 Back in late 2014, I came across a 30-day Blogging Challenge with Kevin and Sarah Arrow. I signed up and at a time when I wasn't feeling particularly pleased with the blog provider I had.  Within two days, I knew the challenge was going to be amazing, so I made the decision to put it on hold (just for a short time).  I switch my blog to WordPress.  Well, actually I just started all over again from scratch.  A big decision, but I just knew it had to be done even if that meant I lost about 2 years of work.  And 10 months on, I'm so pleased I made that decision.
The challenge has taught me so much and not only have I learned much better blogging skills (after doing the challenge 3 times, once on two blogs at the same time, phew!) I've made friends in the blogging world and this is great news.  It means I get to support other people and they support me.  It's a win, win game.
Check out my Time Management 30 day blogging series.  This was the last post (day 30) that I posted with a full linked list of all of the other 29 blog posts in this series.



So, my advice to you right now is to go ahead and join the 30 Day Blogging Challenge right now.  It's completely free.
Yes, it might be scary, yes it will take time and you'll probably end up hitting publish on a few blog posts way closer to midnight than in good for your sanity, but it will be so worth it.
When I come across really genuine people who can help us in our business, I like to shout about them.  So this is me officially SHOUTING about Sarah and Kevin and the 30-day blogging challenge.

A few words of wisdom for building your business blog
Okay, now remember I'm not a pro at this, but here are a few things I really want to share with you that will make a big difference
Be active with other bloggers.  If you want to build your blog, help other people with theirs too.  If you read a blog post and enjoy it, love it or find it helpful, let them know. LIKE it, comment on it ( a genuine comment that says more than just great post, tell them what you liked or found helpful) and share it if you can too.  The blogger will love you for it, and if they have the wonderful CommentLuv plugin, you'll get a lovely link to your post show up after your comment.
Get the CommentLuv plugin on your blog.  People love it.  I love it.  It's like getting a big thank you for leaving a comment on someone's blog.  It encourages other bloggers to comment.  If anyone comments on my blog and their link to their last post shows up via CommentLuv, I go and have a read of their post and whenever I can I'll comment and share their post too.  It's great blogging karma and great for building a blogging community.
Be real.  Use your blog to build a connection with your readers and to build trust.
It doesn't have to be perfect.  Even though by the time I hit publish on this post, I'll have checked for spelling mistakes and typos at least twice, there may well still be some in there.  Hey-ho, at least I got it out there.  If it bothers you, perhaps you might not want to keep reading my blog and find a word perfect blog instead. Seriously, it really doesn't matter to the vast majority of people.  If you're writing a "Writing skills" blog post or a "Better spelling and grammar" blog post, sure it matters to get it right, but what people want is the information you're sharing and they want it to be from a real person.
Enjoy it.  I can almost guarantee, you'll make mistakes at some stage in your blogging life and it's okay.  You'll learn from it just like I do.  Just go for it and enjoy it.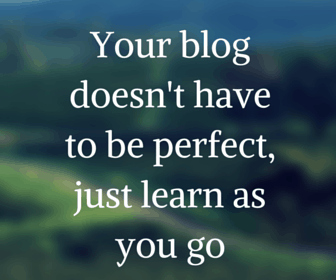 I hope you've enjoyed reading this post and found it helpful.  Go ahead and share your blog link below.  Tell me who you are (if I don't know you already) and what your blogs about and remember to share the link so I (and others) can come and say "Hello" And remember I've got CommentLuv, so your latest blog post (if you're on WordPress) should show up, so it will be easy for me and others to check out your latest post.
If you've found this helpful, follow my tip from above ~ Like it, leave me a comment and share it wherever you can. Thanks, the blogging love will be returned to all who are genuine.
Wendy xx
I've even made it super easy to tweet this post [tweetthis]Business blogging for beginners who don't know where to start[/tweetthi