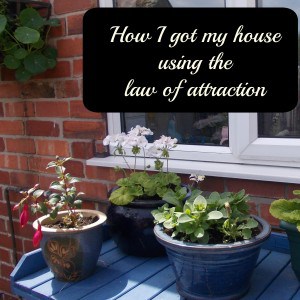 I wanted to do something a bit different today and tell you a story about how I got my house using the law of attraction.  So sit back and relax. I hope you enjoy it.
In 2011 I found myself a single mum.  I'd left the Spanish Island I'd been living on, with my son, a suitcase each, very little money and we'd had a few things like toys, books and clothes shipped over.
From August 2011 – March 2012 my son and I lived back in the house I grew up in with my mum.  It was lovely for a while and comforting for those first few months after my marriage ended.  But the time came when I needed to stand on my own two feet.
I'd been looking for a house to rent locally for a couple of months.  I'd subscribed to the mailing list of a few estate agents.  I saw a house in the next village to my mum, but I ruled it out.  I saw the same photo a few more times and never really thought anything about it.  I knew what I was looking for and this photo didn't match what I wanted. Then one day, I'd been out with my mum and my son and ended up taking a really weird, completely unplanned detour and ended up driving through the village where the house for rent was.
Now I have to tell you the village is not a place you'd ever normally drive through.
As we approached the village, I remembered I'd seen a house for rent and just as we entered the village I saw the for rent sign.  As soon as I saw the house I fell in love with it.  I instantly knew this was a house we could be happy in.  It was almost as if it was reaching out and hugging me.  Yes, I know that sounds woohoo, but that's how I felt.
I called the estate agent right there and then.  They said that the owners were doing some work on the house as it had been left in a dreadful state by the last tenants and they weren't showing people the house until the following week.  I pleaded to see it straight away.  They contacted the owners and they agreed to show me the house the next day.  If my memory serves me well, it was at 11am.
The estate agents were right, the house had been left in a state, but I could easily see past that.
I left and telephoned the estate agent immediately, only to be told that someone had called in on the off-chance of a viewing earlier in the day and they had been in to sign the contract already.
I was, as my son would say gutted!
I'd found the house I really wanted and it was already taken.
For a few hours I was pretty miserable, then I just thought, "Right snap out of this and get your focus back on what you want."
Yep, that's the Law of attraction practitioner self-talk kicking in.
So I sat down and wrote down all of the things I loved about the house, how I felt about the house.  I imagined living in a house exactly like the one I'd just seen and allowed myself to feel happy living in that house.
The next morning, I got a phone call from the estate agents, who very excitedly said "You'll never believe what's happened".  The man who had signed up for the house had been for an early morning meeting with his boss and found out he was being transferred to work in France for 6 months. So the house was mine if I still wanted it.
I smiled, said yes and thanked her.  Yes, I was happy, yes I was excited ~ NO I was NOT surprised. I absolutely did believe what had just happened.
Why?  Because that's how the law of attraction works.
My son and I moved in later that month and 3+ years on, we still love it.
I hope you've enjoyed my story about how I got my house using the law of attraction.
If you have a law of attraction story you'd like to share, leave me a comment below or if you'd like your story to be featured here on this blog, please email me at wendy@wendytomlinsoncoaching.com
[tweetthis]How I got the house I wanted using the law of attraction[/tweetthis]
Wendy xx