Today I want to share three of my top productivity tips for home based business owners.
Working from home was something I always knew I wanted to do whilst my son is still young enough to want me around.
I love the freedom of having a home based business, but it also comes with its own set of challenges.
For me personally, the challenges have included getting through to friends and family that just because I'm at home, does not mean I'm free for lunch, going shopping, chatting on the phone, running errands…
Also for the first year or so of my business, I spent a great deal of my time being busy but not productive.  There's a huge difference.
So today I want to share 3 of my top productivity tips for home business owners.
PIN and Share – Thanks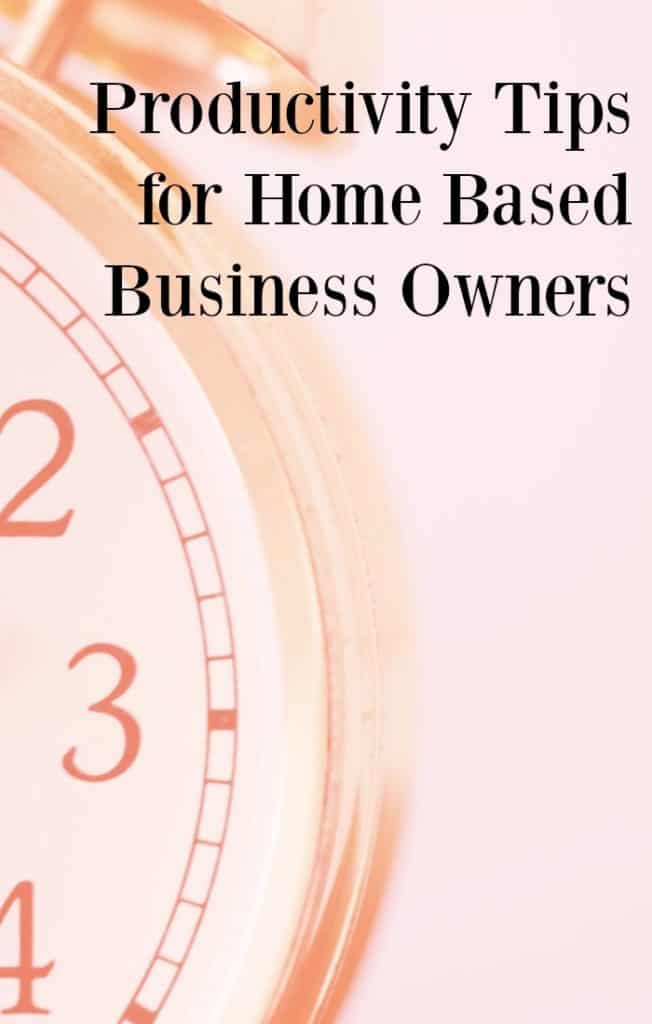 Here are my top 3 productivity tips for home-based business owners
If you currently feel that you're not as productive as you would like or need to be, these tips are well worth committing to applying.
FREE for you – SIgn up for my FREE Ideal Business Workbook for clarity and focus in your business.
Set yourself work hours
Okay, if you're just starting out, you're probably in for a bit of a shock.  Most successful home-based business owners work way more hours than they did in full-time work, at least to start with.
However, I still encourage you to set work hours and as much as possible, stick to these hours.
I have two reasons for this suggestion.  Firstly to try and give yourself some valuable work-life balance and secondly because it can be easy to end up not putting the hours in.
My official working hours are 8.30 – 4pm.  This is when I get the bulk of my work done, my most important work.  I do work outside of these hours but I try to do things like research, social media work, non-essential emails during this time.



Now I will be completely honest with you.  I take time off (when I decide to, not when other people think I should).  If I take three hours off in the afternoon, that's my choice, but I know I have to make that time up in the evening and/or at the weekend.
You need to be completely honest about how you're spending your time during business hours.
Worth reading: How are you spending your time?
What I see happening with clients I work with who are in the first years of business and not achieving what they want, is that they do a little work, go out for coffee with friends, then they pop and do a bit of shopping or a bit of housework… This goes on in some form for weeks and then I get a phone call or an email saying "My business isn't working and I don't know what to do, can you help me."
Now this isn't true of all my clients, but it's something I see happening a lot.
So if you can relate to this situation, my advice is to say "NO" to everything that is NOT work and stick to your work hours.  The flexibility can come later as your business grows.
Pretend you are on the clock and you only get paid if you work your hours.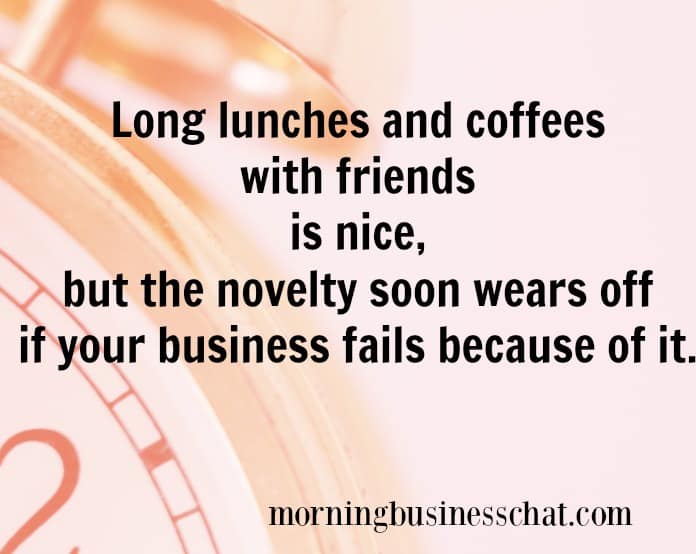 Have a conversation with friends and family
People are not mind readers and mostly, they just want to spend time with you, but you need to let people know that you are working and that's that.
You really do need to lead by example.  If a friend or family member telephones during your work hours, simply say to them.  "I'm working at the moment, can you call back after…" (whatever time is outside of work hours) or "I'll call you this evening."  This gives your friend a clear message that they need to let you work in the daytime and if they'd like to chat with you, then they must call in the evening, just like they would if you worked for someone else out of the home.
I've printed out and laminated a sign and put it on the outside of my door in the past saying "Please do not disturb.  I work from home and I'm on a call."  This worked well for me as I am often on coaching calls with clients.
Let your friends and family know that you have to commit to these hours in order for your business to be successful.
When it's work time, WORK!
I know this sounds obvious but I speak from experience when I say this doesn't always happen.  I know in the early days and even now I fall into this trap now and again, I was really busy, but I wasn't always working, at least not on the important things in my business.
Okay so what I want you to do is get clear about the business tasks that move your business forward, I mean really move your business forward. Do these things.
So checking what your friends are doing on social media is not work.
Be really strict with yourself on this point.  With no boss watching over you, it's so easy to just do the easy stuff that makes you feel busy but won't move your business forward.
YOU are your boss.  Be fair but be strict with yourself.  And be fair and strict with other people so that you have the time and space to make your home based business a real success.
You don't need to go this alone
Please do get in touch if you'd like further support.  Going it alone in business can be hard and often lonely.  There really is no reason to do this alone.  
Please note that these tips are not the way that ALL successful business owners operate.  However, if you are currently feeling that you are not very productive in your home based business, then it is well worth committing to applying these tips.
Let me know in the comments below what you struggle within your home based business.
Wishing you every success.
Other posts you might find helpful…
Eat frogs for breakfast – Productivity tip
Massively effective goal setting
Clarity exercise for when you don't know what to focus on
Recommended downloads
Law of attraction business planning pack