UPDATE: Elite Blog Academy has changed since I wrote this blog post. The blogging training is now just a small part of a much bigger membership. Read all about it – ACTIVATE from Elite Blog Academy.
If you're a blogger, whether you've just started out, you're thinking about starting a blog to make money or you've been blogging for a while but you're not yet making any decent money, this Elite Blog Academy review is well worth a read. If you're looking to invest in a blogging course, in my opinion, this is the one to go for.
Even if you don't choose to sign up for it, I've got some great freebies to tell you about that will really help you to create a successful blog.
I'm going to share loads in this post which I hope will really help you to decide if Elite Blog Academy is for you.
DISCLOSURE – I always want to be totally upfront with you, I am an affiliate for Elite Blog Academy and I have used my affiliate links throughout this post – This means I may receive a commission if you end up signing up. I'm going to tell you more about the affiliate program later in this post as it may be very important to help you make your decision.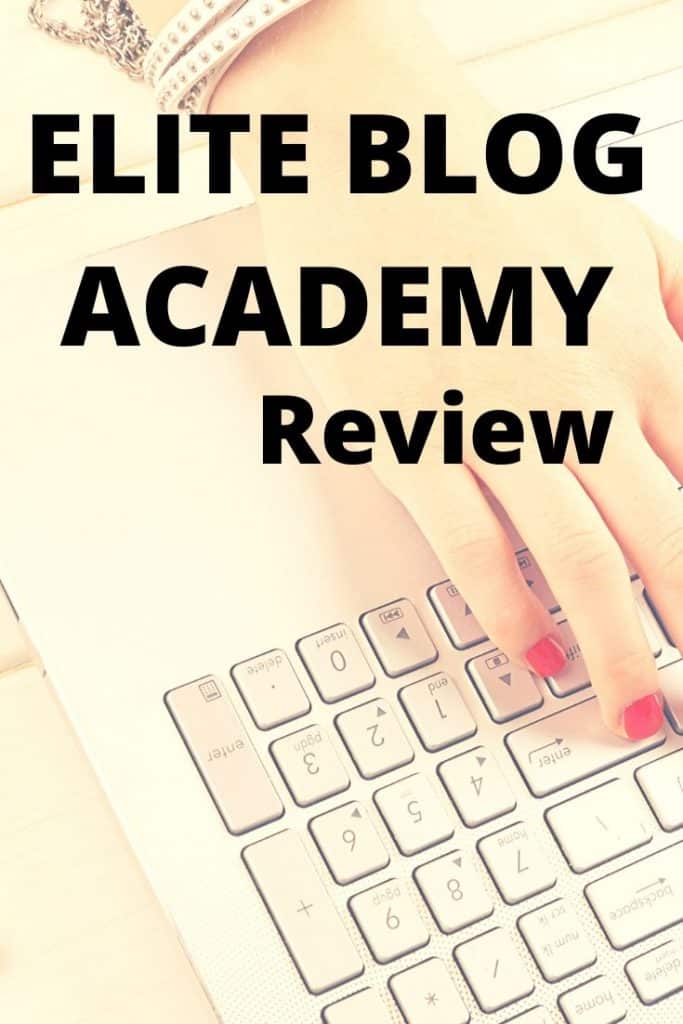 ONCE A YEAR ONLY Blogging course
A really important thing for you to know is that Elite Blog Academy only opens its doors for new enrolments once a year and it's for a very short time.
If you even think you might want to take EBA to learn how to really blog well and make money from your blog then I highly recommend you take a moment right now to get on the ELITE BLOG ACADEMY WAITING LIST
You'll be under no obligation to sign up for anything and you'll get some extra information about freebies. I really wanted to take Elite Blog Academy the year before I actually did.
I'd saved up for it but I hadn't got on the waiting list. When I checked the site to sign up, I'd missed enrollment by about 3 days and I was gutted.
The price
I'm going to get this out the way straight away. There's no getting around this one. Elite Blog Academy is expensive or at least it was expensive for me when I signed up and my blog wasn't really making any money at all. The money had to be squeezed from somewhere else.
Now, I'm not going to put the price as it may change and I don't want to give you false information but you're looking somewhere just over $1000.
At the time of starting Elite Blog Academy I knew I wanted to make blogging my full-time business and as a single mum, sole breadwinner, I had to make that pay if I was going to make my blogging dream my reality.
This investment was really scary for me. As I said to you, I'd saved for it the previous year and missed it. By the time it came around again, I'd had some pretty major car issues (one being a complete right off) and I'd had to spend a big chunk of the money.
Now, I'm not recommending this to anyone, I'm just telling you how it was for me. I took a deep breath and paid with my personal credit card. Paid off what I still had saved straight away and hoped for the best. I can say, I am so pleased I did it when I did because I honestly don't think I would have achieved my goal to be a full-time blogger otherwise.
I'd given myself a year to earn enough to quit my original coaching business. I started Elite Blog Academy in March (Feb/March, I can't quite remember) and at the end of that year, I stopped coaching and was making a livable income from my blog.
Obviously, it was my efforts but I put a big chunk of that success down to Elite Blog Academy. Below I'm going to tell you some of the best things about Elite Blog Academy in my opinion. Please do feel free to ask me any questions and I'll do my best to answer for you to help make your own choice.
Also, please note that at the time of writing this post, they do offer an option to pay in installments.
Get on the ELITE BLOG ACADEMY WAITLIST -You'll get some amazing advice from them even if you never sign up.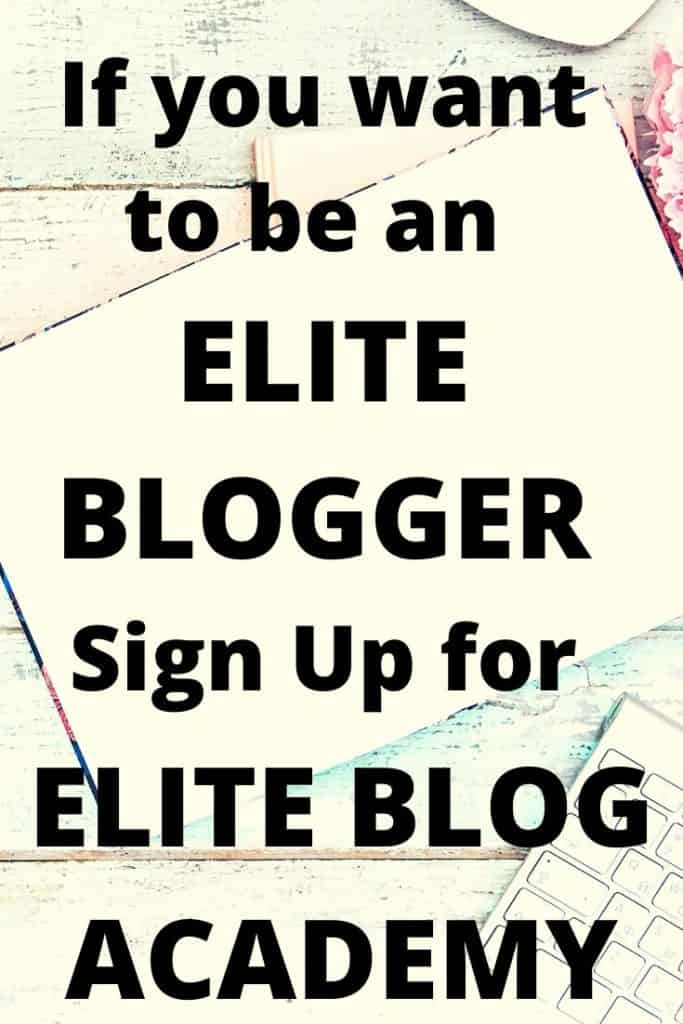 Structuring your blog
Learning how to layout my blog and structure my blog posts was huge for me. I can so easily go off on a tangent and halfway through the blog be completely off-topic which I now realize was so confusing for my readers.
Learning how to structure my blog well (and write my blog well) also helped me to speed up the writing a blog post process. This is important for you to be able to get regular content on your blog.
Focusing on a profitable blog
I've taken other blog training but none have focused on creating a profitable blog in the way Elite Blog Academy does and for me, this was so important.
I'd been blogging for quite a while already and it wasn't making me money. Well on a good month, I'd make around £60, definitely not enough to live on. It wouldn't even cover my expenses for my dog.
One of the biggest things that they focus on is creating your own products. This is definitely a good idea and a good money maker. I do have my own products but I am going to be totally honest, I didn't follow the advice fully.
I make the biggest chunk of my income from MediaVine Ads and affiliate income. That's my personal preference. You will definitely learn about a variety of income methods. It's not a one way or the highway kind of teaching.
For me to be able to earn a good income from ads and affiliate income, I must have a good amount of traffic. I didn't have anywhere near enough blog sessions to even apply to my ad company MediaVine before joining Elite Blog Academy.
Other people have gone onto follow the product creation path and done exceptionally well. Read these success stories to see how different people have had success with EBA.
I find it really interesting to hear different stories as each person will likely get something different from going through the academy training.
GET ON THE ELITE BLOG ACEDEMY WAITLIST
A business mindset
For me personally, one of the biggest things I got from the training was a change in my mindset. I was able to focus on blogging as my business and feel so incredibly proud to tell people I'm a blogger.
I hear people say things like Blogging isn't a business! Well, I respectfully and totally disagree. BLOGGING IS MY BUSINESS and I love it.
I also started to work in a more professional way. I planned my posts, I made sure they were going to in some way generate an income for me, I monitored what was working and what wasn't. I took my business seriously and it paid off.
Lifetime access
Once you sign up to Elite Blog Academy you have full lifetime access and this includes access to any updates. I go back and do the training and take advantage of the bonus training on a regular basis.
If I want to learn something new connected with my blog, I always check back with Elite Blog Academy first to see if I can find the information I need there.
A ready-made community
Not so much now but certainly when I first took the training, I found huge value from the community on Facebook. It's a private community only for members so you can really get the support and encouragement you need.
Each year the group will get new members join after enrollment, but there are also people like me who've already gone through all the training and have been blogging for a longer time who can give valuable advice as more experienced bloggers.
I've found this support really valuable. I don't often go into the group for advice these days but I do try to pop in regularly to support other people and answer questions where I can.
GET ON THE ELITE BLOG ACADEMY WAITLIST
Becoming an affiliate for Elite Blog Academy
I wanted to talk about the option to become an affiliate as this is a potential way for you to increase your income. If you have a blog, it doesn't matter what your niche is, you can add a post to talk about your own blogging experiences, how to become a successful blogger type post.
Only people that have actually completed EBA can apply to be an affiliate with them. Whilst this is a bit annoying. I wanted to start promoting straight away.
It's actually a really good thing because it means anyone promoting Elite Blog Academy has invested a huge amount of time into the training and they've obviously found the training really helpful.
I can't imagine anyone spending that much time and effort if they weren't benefiting from it. It also means that you won't get random people signing up to be an affiliate just to make money without actually doing the training.
This happens with some affiliates. It's not good practice but it does happen where people promote things to their audience that they actually know very little about. Read why I love sharing affiliate links for a much more genuine way to go about making money as an affiliate.
I wanted to share this with you because it may encourage you to know even by this one method, you can make your money back. Assuming the price stays roughly the same and the affiliate commission stays at 40%, you'd only need to have 3 people sign up to EBA using your link to have already made a profit and your money back.
GET ON THE ELITE BLOG ACADEMY WAITLIST
Breaking the one blog rule
I wanted to include this in my review because at the time of starting Elite Blog Academy, I already had 2 blogs. I very much felt at the time that I'd messed up this blog Morning Business Chat.
It had originally been my coaching blog and I felt like it was all mixed up. It's only recently that I've begun focusing on it again, cleaning it up and focusing on creating posts following the EBA training.
The blog I focused on was my Ideal Weight Challenge Blog. It was quite a new blog for me at the time and remains the blog that brings in the most money. I now even have a 3rd blog Life and Business with Wendy.
Update: I now have a 4th blog AMORA BLOGGING. I do sometimes question my sanity but I absolutely love it.
Looking back, would I follow the one blog rule. YES. I would. I often think I need my head testing having all of these blogs. I know being able to focus solely on one blog would be much easier and I feel my growth would have happened faster.
Do you need to be a techie person?
Nope, Ruth Soukup who runs Elite Blog Academy isn't, I'm definitely not and you don't need to be. My advice on this one is to get great blog hosting where they'll help you with this kind of thing. I recommend Lyrical Host, read my review at CHEAP BLOG HOSTING.
Elite Blog Academy review conclusion
Would I buy Elite Blog Academy again? ABSOLUTELY YES! I totally believe that it was the thing that has allowed me to be a blogger for a living with a full-time income (remember I said I'm the sole breadwinner in my family).
And I'm still getting value from being a member and I know if I do need advice I have somewhere reliable to turn to.
I really hope that you've found this information helpful. If you're even the slightest bit interested, join the Waiting List now.
Now I promised you freebies at the beginning of this post, so here they are. 7 SUREFIRE WAYS TO BOOST YOUR BLOG INCOME OVERNIGHT and 7 GENIUS TIME HACKS FOR BLOGGERS
These freebies will give you a good idea of the quality of training you'll get if you do sign up for Elite Blog Academy.
If you've found this post helpful, I'd really appreciate it if you could share it with others. Thank you