When it comes to starting a business from home, you need to start as you mean to go on, and set yourself up for success. There are a number of businesses that fail in the first few years, so you need to make sure that you are starting off your business from home in the right way.
Setting up a business professionally and legally, and with success in mind, is the right way to do things. But what are those steps to take? When you're setting up a business from home, often it will just be you and there won't be other people to check with or consult with.
So knowing the right steps to take is going to make a big difference. Here are some things to think about as you plan your business from home.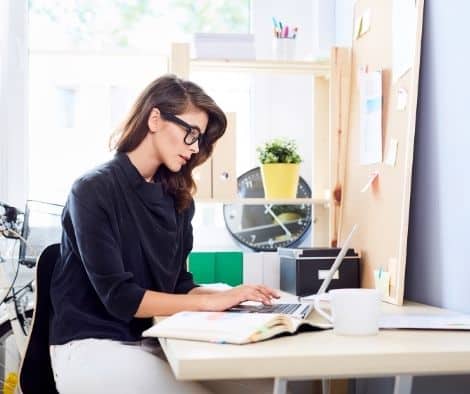 Write a business plan
Starting off by writing up a business plan is a really essential step. This is going to be of even more importance if you will want to have the option to speak to investors or banks in order to get funding for your business.
Those kinds of people will want to see some clear plans that outline costs, projections, and shows what you will do in order to achieve those goals.
Even if you won't be approaching someone else for funding, having a business plan is so important. Having a plan will mean that you can get yourself organized and stay on track with your goals for the business.
Choose a legal structure
There are a number of legal business structures that can be available for your business. Knowing which one will be best for your business is important, and will help you to decide the route that you want to go down.
Sole traders are self-employed people who have personal liability when it comes to the debts of the business. If you want to go ahead and work as a sole trader, then you need to register as self-employed, and then you'll have your tax returns each year.
Limited companies can also be created, and they mean that there is more ownership flexibility, when it comes to having a business with this kind of business structure. As a limited company is an entity by itself, it means that any liability stays with the company, rather than with individuals. If the business plan you have is risky or you are dealing with high-value items, then this business structure could be best for you, and they also tend to be more tax-efficient than being a sole trader.
A Limited Liability Partnership is something that works well for accountants and for other professionals who want to run a business with other people, as you will need another person to set up a business as an LLP.
Insurance
There are a number of reasons why you will need to get business insurance, even for a business that you do for yourself and run from home. You might not have to think about insuring your home, as that is likely to be already covered, but you do need to think about getting insurance for other reasons, such as liability insurance or professional indemnity insurance.
Business name, websites and social media
When you know what you want to call your business, then getting it registered as a business is so important. You don't want to take a name that is already registered, or you don't want to lose out on a name that you want, because you haven't registered it in time.
When you know what your business name is going to be, then it is a good idea to get your website registered, as well as setting up your social media channels. Having your website address, as well as your social media channels relating to your business name is something that will help people to find you, and it will show the cohesiveness across your branding.
Keep your branding in mind when designing your website, as you will want it to have a professional look and feel. There are a number of websites where you can design your own website, but you could invest some money in a professional website designer in order to help you get the website looking just as you want it.
This is just the tip of the iceberg when it comes to starting a business from home. But if you put these plans in place, then you will give your business the start that it will need right from the start.
DISCLOSURE – This post has been written by an outside source