Yes, I completed my 100 items de-clutter challenge that I set at the beginning of the week.  Plus one.  Plus a load of papers and bits and bobs I didn't even bother to count.
So I thought it would be a good idea to share my de-clutter list.  Unless you're a fairly seasoned minimalist, I bet you have at least 100 items you could easily de-clutter.
Give it a go and let me know how you get on.
Where to de-clutter.
Okay, so I'd already de-cluttered a lot of my clothes, so I didn't even look in that area.  I know I could cut back a bit more but for now, I'm okay with what I have.
I also left alone the cupboard under the stair, mostly because it scares me.  It's a serious dumping ground right now and is going to be a Sunday job when the weather's not so nice and I have nothing to do.  Humm!!!
The Kitchen
I definitely found a few things in the kitchen drawers.  Again I could probably do a much bigger de-clutter in here, but for now, it's fine.  My kitchen drawers seem to be a place where things get dumped out of sight that I don't know what to do with.
The bathroom.
I got quite a lot of things from the bathroom and I'm doing an ongoing use it up, trash it and simplify mission.  7 different shampoo's is way to cluttered.  This is definitely an area where I seem to accumilate a lot products.
The living room
In particular the book case, which actually had mostly dvd's on.  This was a major clear out and I was ruthless.  Most of the things I threw out were Jack's from years ago.  He'd have happily got rid of them ages ago, but I was "Oh, but you used to love that film."  Hmm, when he was 5!!! Not 14!!
My bedroom
Specifically my bedside table and the top of my chest of drawers.  Both of these areas were really cluttered.  So I've either cleared them away or binned them.   It looks so much better.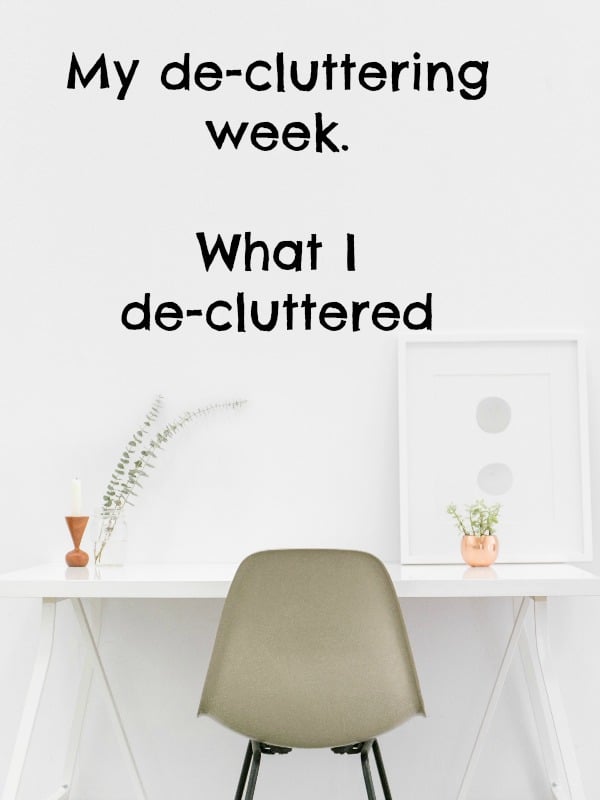 101 items de-cluttered
5 make up items
2 shower gels with cartoon characters on that my son could never use as he has sensitive skin
8 medicine spoons
3 bent knives
2 spatulas
1 lid that I have no idea what it belongs to
6 picnic cutlery
3 individually wrapped tea bags (from a hotel I stayed at ages ago)
1 bottle of body lotion or bath milk.  Couldn't even identify it.
7 notebooks
2 cardboard storage boxes
3 book
1 shopping catalogue
4 necklaces
1 finger puppet
3 pedometers that don't work
6 Various jewellery
1 bubble bath (used up and trashed)
3 creams I got as gifts and they irritate my skin
6 practice workbooks for various ages (ages 6-11).  I can safely say my son does not need these at 14
16 dvd's
1 set  of Christmas tree lights
3 candles
Tatty looking post-it notes block
1 old ornament that I always hated but felt I should keep as it was a gift
1 hairbrush
4 tape cassettes.  I don't actually now own a player for these.
1 pack of baby wipes (dried out)
1 manicure set
1 pen
1 lip balm
1 puncture repair kit that I've taken to mums (where our bikes are)
Phew.
So that's my de-clutter.  I'd love to hear what you're de-cluttering.
TIP: If the idea of 100 items is too much.  Start with 10 items.
Happy de-cluttering.

See the original 100 items de-clutter challenge