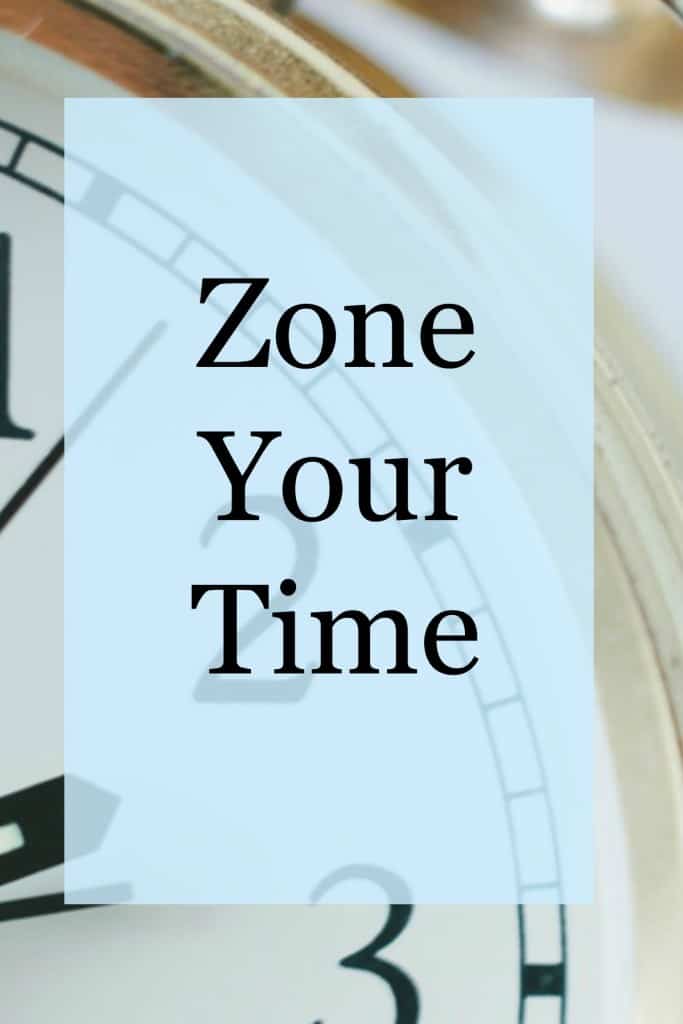 Zone your time for better time-management. I've talked about how to zone your time briefly in my post Use a To-do list.  Today I want to go into this in a bit more detail so that you can effectively zone your time ~ to save time.
What are time zones?
Time zones are set times during your day/week.
How long is a time zone?
You set your time zones to fit your life.
My time zones Monday -Friday are as follows:
Before work ( this is the time between getting up and starting my work day)
Morning business hours
Lunch
Afternoon business hours
Before evening meal
Evening meal
Evening
Nothing to techie there then!  I do like to keep things super simple.
Now within these individual zones, I have more zones.
During my Morning business hours, I have zones of time for social media, client work, project work…
I don't tend to have zones at the weekend.  Things are generally in my big FREE time zone then.
Other ideas for time zones.
One of my clients like to zone her time into 15 minutes whilst she's working, others like to have hourly time zones.
Try out a few ideas and go with what works for you.
I know that having 15 minute or hourly zones throughout my day would not work for me but we are all different.  Look at your life and fit your zones around it.
How does this help with time-management?
Okay, let me run you through what used to happen when I first started in business.  I'd start work at around 8.30am and finish at around 3pm.  That was pretty much as planned as my day was back then.
So I'd spend time on social media, check my emails, check to see if anyone had commented on my post on social media, get a drink, back on social media, do some research into how I was going to be a super successful coach, check to see if my phone was working (because no clients were ringing to book sessions…)
You get the idea.  I wasn't getting very much done and I certainly wasn't the successful coach I wanted to be and I pretty much had no action plan in place to become a successful coach.
In 2011 I had a massive wake-up call and there was no more time for me.  Time had run out on not being successful.  It was a case of sink or SWIM ~ Swim well and do it fast.
That's when I got serious and started adding time zones to my work day.
Now I know I'm talking about my business a lot here but you can use this in all areas of your life.
So for me, when I'm in my PROJECT time zone, I work only on my current project for that time. When I'm in my Cleaning the house time zone, that's what I do.
This is good time-management because, you do what needs doing an nothing else in this time.  The result is you get more done.
I'd love to hear how you zone your life.  Let me know in the comments below.
A little bonus poem
I was reading a lovely blog post (a poem) last week and and I challenged the athor to write a blog post with the words Time-management in.  I think she's done a wonderful job.
Beep beep beep,
Annoying little sound,
Snooze button just once
Maybe once more… Read the rest here
This blog post is part of a series.  To read the rest of my time-management tips, go to Time-Management
OVER TO YOU
Did you find this tip helpful?  If you did please share it using the social media buttons below.
If you'd like to get to grips with your time management skills please take a moment to subscribe to this blog, so that you get every new post direct to your inbox.  You can do this to the right of this post or at the end of this post. I'm going to keep each post short and to the point so that you get the value without it taking up too much of your precious time.
WENDY XX