Today I want to share two side hustles to start making money today.
Now, I'm going to point out right now that these are NOT get rich quick schemes. And they will not make you a lot of money but they will allow you to make a bit of extra money straight away.  They're nice little extra earniner that require no special skills and you can just do them in your spare time from home.
I see a lot of these kinds of posts that recommend things like blogging and YouTube.  Well, I have a blog (obviously) but it certainly didn't start making me money overnight.  Blogs are excellent if you're in it for the long-haul and I do highly recommend setting up a blog.  I also have a YouTube channel and again it's something you need to do for a long time in most cases before they make money.
The 2 side hustles I'm sharing are things you can do in your spare time and you can start making money today from them – For me, that's usually in the evening when my brain really isn't up to writing a full blog post that will make any sense or creating a new download.  Also, they both take very little time per visit if you only have a few minutes to spare.
I've certainly had times when I've needed this extra little bit of income to help with living costs.  Now, I do them as bonus money.  I let them build up and I use the money for a really nice Christmas bonus for Christmas presents.  This year, I should be able to buy all of my Christmas presents using this money plus I'm expecting to have some extra left over for a nice treat for myself.
The "Wouldn't you be better working on your business? question
Of course, we need to put the time into our business but we can't be constantly doing that.  For me, the alternative would be watching TV.  I've already done my business work for the day.  I'm settled on the sofa and I'll spend a bit of time on these side hustles. Sometimes it's 5 minutes or even less and sometimes I'll happily spend an hour or so on them.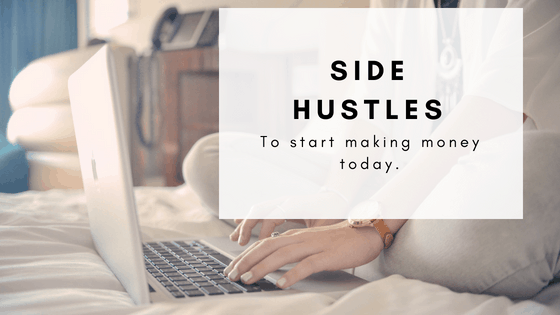 Side Hustle #1 – Slice The Pie
I'm a big fan of slice the pie.  This is a fairly new thing for me. I found it when I was looking for something my son could do to earn some extra money in his free time from home.  I liked it so much I'm going to keep doing it.
As I said, you're not going to get rich through this but you can start making money immediately with this one.
It's a review site.  So far I've had mostly music to review with the odd advert.  They're super quick (usually no more than 3 minutes per review).  I like music so this is a fun thing for me to do.  I can easily spend a couple of hours and think I've been on for 20 minutes.
The reviews start off at $0.11 (I think this is the same for everyone.  Most of mine now pay $0.15 per review. It is super low but the money can quickly add up.  And I've never been on this site and had nothing available for review.  So you can do as many as you want.
A word of warning, some of the songs have swearing in and offensive language (I've emailed them to see if I can block these.  They've told me that they're working on this. I'll keep you posted) – Just write an honest review.  You don't have to listen for very long.
Here is my referral link if you want to sign up.  It only takes a few minutes.  Join SLICE THE PIE
And here's the really cool thing.  If you sign up, you get paid and I also get a small Baby Bonus –  People who sign up through my link are listed as friends and for each survey they take I make around $0.022. Again, not a lot but get a few friends signed up and they're all doing some reviews every day or so and yes, it does add up.  You will receive 20% of all their review earnings for 60 days and 10% after that!
This is definitely my firm favourite – The thing I like the most about Slice The Pie is how quick it is to do a review.  It means I can pop in whenever I have a few minutes.
Side Hustle #2 – Surveys
I'm going to be honest about surveys and say I have a bit of a love, hate relationship with them. But I have found one survey site that I really like.
This is what I hate about SOME survey sites.  You sit there and answer a load of questions taking up your valuable time and then you get a message saying, sorry you are not a match for this survey.  Seriously,  my laptop has come close to being thrown at full force across the room many times because of this.  So it is a bit of a trial to find a site that works for you and that may be different for each of us.  The site I stick with is Prolific.  In my experience, if they offer me a survey, I'm a match for it and I will get paid.
The downside to this site is that I don't always have any surveys available. Sometimes I'll have 3+ surveys for me to do and other days I'll have none but again it builds up over the course of the weeks and months.
Most studies range from around £0.25 to £2.50 and vary in length of time.  Although some have paid over £10 for longer studies.
Here's my referral code Prolific Surveys  
These are the advantages of referring others to sign up with prolific.  Again, not great but it all adds up over time.
1) Refer a participant and earn 10% of their first cash out on Prolific. e.g. if they cash out with £50 we will credit your account with £5!
2) Refer a researcher and we will split 10% of the total value of their first study between you and the researcher you refer! e.g. if they run a study worth £1,000 we will split £100 between you as a reward.
So those are my top 2 easy ways to start making money today in your spare time. Let me know in the comments below if you have any other ideas or ways that you're making money in your spare time.