I think this could be my best ever time management tip- Give yourself some buffer time.
This tips saves time and your sanity.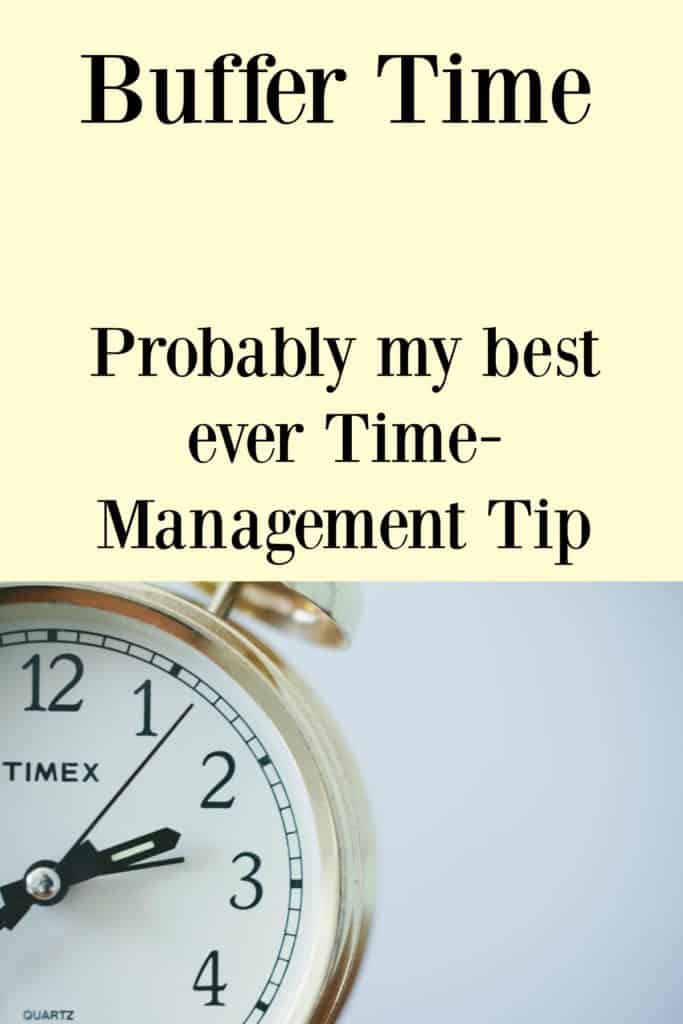 No, I'm not talking about that annoying buffering we get when we're waiting for something to upload.  I'm talking about a window of time we allow ourselves.
I'm sure we've all experienced times when we're running late and everything seems to be going wrong.  I want you to avoid those times because they are always so stressful for everyone involved.  Instead, build in some buffer time.
So why is this my best ever time management tip?
It's my best ever time management tip simply because it has saved me time and definitely my sanity so many time and when I don't remember to do this, I always wish I had.
Even this weekend with my son, we ended up being late arriving for a family meal simply because I didn't allow buffer time.  I left everything to the last minute and then wondered why my son wasn't ready either.
Buffer time for travel
We never know when there will be hold ups when we travel.  Even on short journey's, it's wise to allow some buffer time. Now when I suggest this to clients who have very rushed lives, they often say.  But surely that's wasted time.  In my opinion, it's not wasted time.  Giving yourself some buffer time means you arrive on time and in a calm fashion, rather than stressed or running late.
If you do arrive early, take the time to visualize the rest of the day.  Focus on what you want.  This time, is never wasted time.
Buffer time for the kids
If your house is anything like mine, your child will always remember they need something from upstairs as you're just about to leave the house.  Or they seem to have an inbuilt go slow when you need them to rush.  Most kids aren't doing this on purpose, they are more likely responding to your energy and getting flustered.
Allowing a few minutes buffer time works wonders.
On a school morning, we allow a 5-minute buffer time. This means that we have time for my son running upstair for his reading book at the last minute or last minute dashes to the toilet…
Buffer time when completing projects or your to-do list
Every day I have a finish up time.  This is when my scheduled work ends and I start the process of closing down for the day.  This is usually about 30 minutes.  This allows me time to plan for the next day and complete anything that has run over time on my to-do list.
When I set myself a goal to complete a project, for example, write a new ebook.  I plan out what needs doing and give it a time frame and then I add buffer time.  In the case of my last ebook that was two days.  This gave me breathing time to make sure everything was the way I wanted it before publishing.
Time management is about making the most of your time so that you do what needs doing and what you want to do using the time you have.  Adding in buffer time allows you to be calm, organized and get whatever it is you are doing, DONE.
When we're rushing we tend to forget things.  This buffer time has proved a time saver in my book time and time again.
This blog post is part of a series.  To read the rest of my time-management tips, go to Time-Management
Make buffer time a daily habit
I believe that time management is all about building positive habits that will support you and improve your time-management skills.  So I strongly encourage you to start today building buffer time into your day.
OVER TO YOU
Did you find this tip helpful?  If you did please share it using the social media buttons below. What's your best ever time management tip?  Share it in the comments below.