What does your reception area say about your company? Does it appropriately reflect who you are and what you do? Is it warm and inviting or simply a primary holding area for when people arrive?
First impressions count, and if your reception area is lacking, then chances are you are giving out the wrong impression to potential clients. This post looks at some easy ways you can transform your reception area.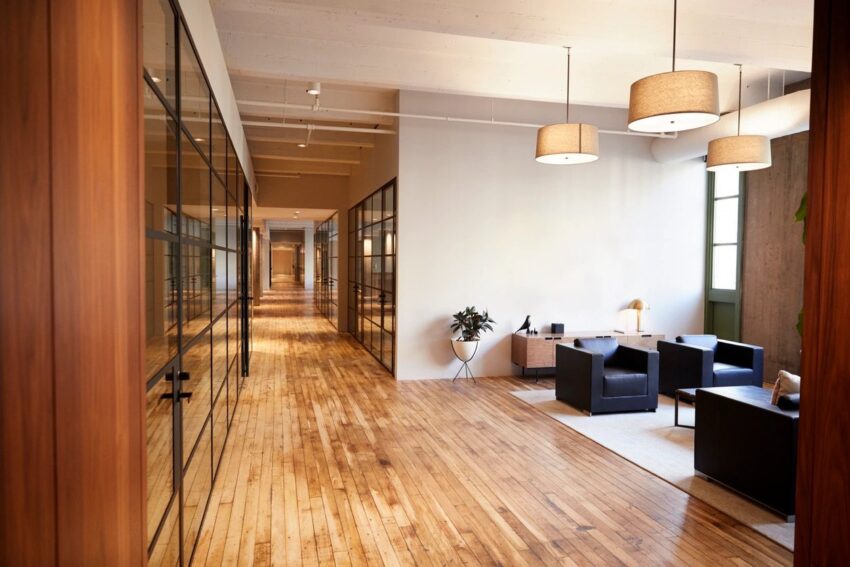 Anchor with Furniture
Anchor the space with furniture that stands out. If you want your reception area to feel welcoming, it's essential to make sure it has a clear focal point. Whether you choose an armchair, ottoman, or bench, try to find one piece of furniture that will stand out and act as the anchor for your space. This can be an excellent spot to put a comfortable seating option while also providing guests with some extra storage options.
If you're looking for ideas on what type of furniture might work well in a reception area, we suggest browsing some catalogs from companies like Room & Board or West Elm for some top-notch options.
Freshen Up Walls and Flooring
Your reception area is the first thing people see when they enter your company, and it can be a little intimidating, so you want to make sure you have made a good impression. The first step for freshening up your reception area is to look at the walls and flooring. There are many ways you can update your walls without spending too much money. You could use removable wallpaper, cheaper wallpaper with an easy peel-and-stick application, or design adhesive vinyl which is also low cost and easy to apply.
Or maybe you can add hygienic cladding to walls to freshen them up and give you an easy-to-clean surface. For the flooring, you could go with area rugs, a nice mat in front of the door (think one with a company's logo), or even replace carpeting which is low cost and relatively easy to do yourself. You might need to paint or even put down new carpeting, but that doesn't have to mean breaking the bank.
Add Your Branding
One of the best ways to update your reception area is by adding your branding. This means adding signage, flyers, and fliers to promote your business. You can also add a screen with a slideshow of images representing what you do.
It's also a good idea to take advantage of some low-cost ways to make your reception area look more inviting. For example, putting plants at the front desk is a great idea. You may also want to consider using mood lighting or adding some artwork.
Change Lighting
When you update your reception area, one of the first things you should consider is improving the lighting. Many people don't think about how well-lit space is. But, if it's too dark, it can make people feel uneasy. You may want to install new lights or use lamps to brighten up the room and make it feel more welcoming.
Add Plants
The first thing you can do is add plants to your reception area. Plants are a great way to make a space feel more welcoming. You can choose small potted plants strategically placed on desks or tables or opt for larger plants in statement pots on the floor. Plus, plants instantly brighten up and room and improve air quality.