Will you join me on the 100 items de-clutter challenge?
I truly do believe that a de-cluttered home and workspace means a de-cluttered mind.  So this week my challenge is to de-clutter 100 items from your home and/or office (workspace).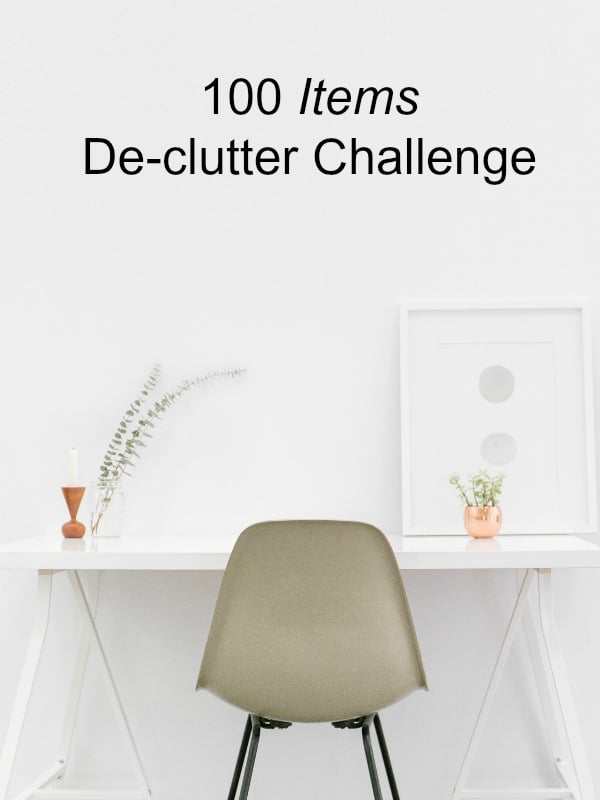 Today's post is a little bit different, it's a lifestyle post and the challenge is to declutter 100 (or more) items from your home and/or office.
I'm not a naturally tidy person but I love my home and workspace to be tidy, clean and de-cluttered.  I know when it is my mind is also de-cluttered.
I feel calmer, more organized, more focused and I'm able to concentrate on what I'm doing much better, whether that's my business work. cooking the family meal or spending time with family.
When my house is cluttered, I feel like I'm all over the place in my mind and find it really difficult to stay focused for very long.
[tweetthis hidden_hashtags="#Home #Declutter" url="https://morningbusinesschat.com/100-items-declutter/" display_mode="box"]100 items de-clutter challenge. Clear your home, workspace and your mind [/tweetthis]
100 items de-clutter challenge
Okay, so this is the challenge.  I'm doing it this week and I'd love you to give it a try too.

De-clutter 100 (or more) items from your home and/or workspace.  If they are separate, I encourage you to do 100 items in each.  My workspace is in  my home so I'm doing it all together.
Throw it away, recycle it, give it to charity or someone you know will love it, use it up and then trash it.
Using things up and trashing them
I definitely have things I need to use up and trash.  I don't want to just throw them away, but I do need to de-clutter.  My bathroom is a key area for having lots of items on the go.  I have 6 or 7 different shampoo's out at the moment.  2 are the exact same shampoo.  So my aim is to use them up in an organized way and only have 1 shampoo out at a time (or one for me and one for my son).  The same with shower gels, conditioners, toothpaste, hair products…
This goes on a little bit in the kitchen too and with notebooks.  Although I think my notebook obsession is something I need to deal with on its own.  It's a BIG obsession.
Weird things I'm de-cluttering and throwing away.
Seriously, I do find myself saying "Why?" a lot when I do these kinds of de-clutter challenges.
I started the challenge yesterday and my weird things I've collected and now trashed include…
8 medicine spoons.  I mean really, any hypochondriacs living here????  I've kept 3.  I had 11.  Still slightly ridiculous.  
3 bent knives?!?!  No idea why I have 3 bent knives.
3 hotel tea bags in individual packets.  I clearly thought I would need them at some stage.  
If you don't love it or need it, get rid of it.
I try to follow this rule.  If I don't love it or need it, I don't buy it.  I find most of the things I've accumulated have come from other people as gifts or we've simply grown out of them and no longer need or love them.
Here are a few examples.
2 kids character shower gels.  My son has sensitive skin so could never use these, but we kept them on show because he liked the character.  He's now 14 and really not impressed with them, so they've been trashed.
Old make up items. I had 5 items of make up that I either never used or was well past is best.
Plastic cutlery.  I seriously think all family members are now to be trusted with normal cutlery.
Bits and pieces that don't fit
I found a lid to a plastic container.  I have no idea which container it ever fitted and that was probably thrown long ago.  So in the trash it went.
Things that you have loved but are worn out
This is probably the thing I find the hardest.  I've been known to keep loved clothes that have holes in, just because I can't stand to get rid of them.  I'm slowly getting more ruthless with this kind of thing.
Are you going to take the 100 items de-clutter challenge with me?
I really hope you'll give this a go.  I always feel so much more positive when I've done a de-clutter.  Please let me know you're joining in, in the comments below, share any weird items you de-clutter and share any de-clutter tips you have.
I'll update this post throughout the week with more items.
My current total is 31 items (Monday).
Have a great time de-cluttering.
Midweek de-clutter update
After only de-cluttering one item yesterday, I'm now up to 84 items after doing a de-clutter of our living room bookcase.  I knew this would be a good place to get rid of quite a few things.  I was holding onto books and DVD's that Jack grew out of years ago.
I've cleared out quite a lot of stuff that I haven't counted as de-cluttering, such as papers, leaflets…
To be honest, there are a couple of areas in my home where I could probably find 100 things just in that one space, so for this challenge, I'm pretending they don't exist and focusing on smaller areas I know I have bits and pieces to go.
Absolutely loved this challenge
I really do love the idea of becoming more and more minimalistic.  Check out the areas of my home I've worked on this week and the 101 items de-cluttered