Hi,
Today is Day 1 of our 3 week twitter experiment (for business).  I have a group of my Facebook business friends taking the experiment with me and I will be sharing the results with you all at a later stage (once I have all the results in).
Today I want to share a twitter tip that work well for me.
Finding people to follow on twitter (using the people who follow you)
I'm going to assume here that you already have a few twitter followers and that you are getting new followers.
Go to your twitter home page and then click on followers.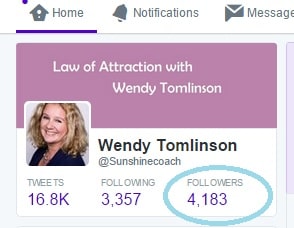 Look at your new followers and if there is someone that you think you would like to follow back, RIGHT click on their name (NOT FOLLOW) then open in new tab.  Do this for everyone you think is genuine.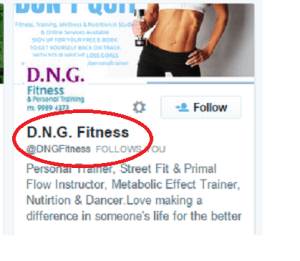 This is a new follow from the lovely Denise of D.N.G. Fitness @DNGFitness Denise is taking the twitter experiment with me and will be sharing her result with me throughout the experiment (thanks Denise).




So, right click on the name and open in a new tab (it's easier this way).
This will take you to their twitter timeline and you will be able to see the kinds of posts they are sharing, you can maybe even retweet one of their posts or reply to a post, remember this is about connecting with people and being social.
So now go ahead and click follow.
Now what usually happens is twitter will show you 3 more people that they think you will be interested in following based on the fact that you have just followed this person.
Repeat the process with each new person.
Of course this process could go on and on, so it's up to you how many new people you follow each time you do this.
I try to set aside some time each business day for this twitter task. (about 5-10 minutes) and for every person I follow back I also try to find another person to follow who hasn't yet followed me.
Obviously if you're at the stage where you're getting 100's or thousands of new followers each day, this would not really be an option, but I've found it's a really easy way to build my twitter followers.
Most people will follow you back if you come across as genuine.
My follow back rule of thumb
It's a sad fact that not everyone using twitter is genuine and there are certainly people I would not recommend following back and for this reason, I do not recommend automated refollow methods.
Think of your twitter followers as people coming into your virtual shop.  Your door would be open and it would be a good idea to let people in and interact with them whilst they are in your shop.
Of course if people are offensive, spammy or obviously only trying to sell you something you don't want, don't follow back.
So basically if they seem genuine, go ahead and follow them back.
You're building your community.




Home and away
Here's something else you might want to keep in mind.
If you are a local business and only want local clients, it's pointless connecting with people worldwide.  So instead using the search area at the top of your twitter page, try typing in some local businesses that you know.  Click on their name and follow the same process, only following local people.
Let's connect on twitter
If you'd like to connect with me on twitter, go ahead and follow me at @sunshinecoach
If you're already following me, go ahead and send me a tweet.
If you liked this post and want to share it with your followers click the tweet this box below, thanks.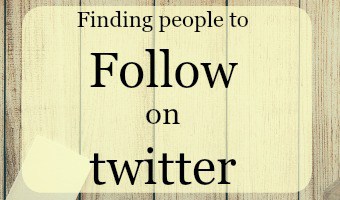 I always want to help you build your own community, so go ahead and leave your twitter username and tell us a bit about what you tweet about in the comments below.
Keep an eye out for more twitter tips over the next few weeks and of course the results of the experiment.  You can subscribe to my blog and get every blog post direct to your inbox below.
Wendy x