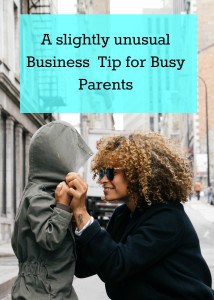 Okay, I know this is a bit of an odd post to be writing on a Business Blog.  But it's important.
At the time of writing this post, I'm a single mum, working full time and more on my business.  One of the things I insist on is help from my son around the house.
My son doesn't like it if I'm working every evening, so it was up to me to help him understand what he can do to help me, so that I have more time for him.
I also believe that it's a really positive thing for a child from as young as around 3 to help with jobs around the house. I think it helps them value their home and feel a valuable part of the family and running of your home.
I speak to a lot of parents who struggle with running a business and family time.  Getting your kids involved in housework or even little chores in the business can save you a fair bit of time.  Time you can enjoy as a family.




Every family is different
I think every family's different. My son's had little jobs to do since he was very small. Things like helping to set the table etc. And he's been responsible for his room from a really early age, pretty much as soon as he was able to understand simple instructions. Of course, when they're younger they need more help.
I like to think of most things as being part of a family rather than chores. My son generally puts the bins out and keeps his own room and things about the house tidy, helps clear up after meals… For me these are things all members of the family need to do. I don't go overboard on his room being super tidy all the time but it has to be beds made, curtains open, laundry in the was basket (my son has one in his room), floor area tidy and generally tidy. I'll occasionally say something to him like "Hey, it looks like you need to pull everything out from under the bed and have a tidy under there" or "Looks like your bookcase needs a little organizing."
A note on the laundry bin in my son's room ~ Honestly this is one of the best things I've done concerning helping him keeping his room tidy.  I think before I gave him his own laundry basket, he used to just take his clothes off and spin them around the room then leave them wherever they landed.  Now he has the basket in his room the clothes go in it (mostly). 
Below is a photo of the laundry basket.  As you can see it's not really meant for laundry but my son can just throw his dirty clothes in and this works for us.
And this is his bed.   It's not how I would make the bed but it's made and that's enough for me.  Sometimes I'll remake it and have a better tidy but mostly I'll just look in and maybe if he's forgotten to take down his drinks cup or something, I'll collect it up for him.  I'm in his room for seconds in the morning though rather than half an hour tidying.  If I do go in and it is a mess, I'll just leave it and when he gets home from school, I'll just let him know he needs to have a quick sort out in his bedroom.
I tend to hoover still and dust, although he does dust now and then.
Saturday mornings
Saturday morning seems to be our clean up time.  We just sort of blitz for about half an hour or so on anything that needs doing.  It could be him dusting the living rooms and I'll hoover or pegging the washing out, or sweeping the stairs… It doesn't take long and I keep on top of the house during the week but he knows that if we're going out (which we usually are on a Saturday) the jobs need doing first.




Extra pocket money jobs
My son has 50p each day for school that he has an option to save.  I'll talk about this more in another post.
He also gets extra pocket money jobs if he wants them.  These are not everyday family pulling together time jobs, these are special jobs (honestly, they're usually the jobs I don't want to do). He can do these jobs to earn extra money.  He has the option to take it or leave it, so there's no nagging involved which always a bonus.   The offer's only on the table when it needs doing and he can't choose to do it whenever he likes and earn money.
For example.  The other day the car needed cleaning out.   There was so much rubbish in the pockets and the boot, so I let him know he could earn 50p to clean the car out and polish it inside.  I told him if he wanted the money it had to be done by Sunday.  He chose not to do it, so he didn't get the money this time.
Other jobs I give him extra money for are cleaning the skirting boards, tidying my bedroom (so love this one), cleaning the downstairs outside windows (he's 13 and only had that job for about a year).
Honestly the first time I showed him how to clean the windows, I could have done about 10 windows in the time it took us to do one together but he learned how to do it alongside me first and now it's something he can do by himself to earn money.
He now also nearly always makes his bed up once his bedding has been washed.  I'll often say, I'll come and help you and he's already done it or says he's fine.  He can do it.
I've been involving my son in the cleaning and tidying of the house since he was about 4.  I always wanted him to feel that it's just something we do as a family and everyone's involved.
Now please don't be under any illusion and think that my house is always clean and tidy.  It really isn't, it's a lived in family home and if he thought he'd get away with it Jack would leave all his things for me to pick up.  But he knows that's not how it works in our house.
At age 13 there aren't many jobs that I wouldn't ask my son to do, he's more than capable.
I don't expect him to come home from school and start hoovering or anything like that, but I do expect him to tidy up after himself, keep his room fairly tidy, help with our pets and help clear up after meals.
When my son leaves home (which I hope is a long way off yet), I want him to be able to look after himself and know that when you live in a house with other people, everyone helps out. That's just how it is.
Tips to get your child to help around the house
No nagging (they really don't hear it)
Show them how to do it properly first (this may take a few times working along side each other).
Mention when it's working "Hey I noticed you've been remembering to put your clothes into the laundry basket, that really makes your room look better."
Try to make them feel involved in the family rather than this is your job.
Give them an option ~ If you want to earn some extra money, these two kitchen draws need cleaning out.  You can do them and earn …(Amount of money)… or I'll do them on Monday. Then it's up to them.
Pull them up if it's not done right and show them what still needs doing (again not nagging just showing).
I hope by sharing how I do it, this will help you work out how you want to do things in your house.  Remember what I said though at the beginning of this post.  All families are different, so work out what works for your family.
Over to you
Does your child help around the house?
I'd love to hear what works for you and of course as always ask if you have a question.
Love and happiness
Wendy xx