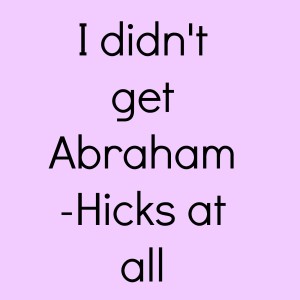 Way back before I trained as a law of attraction practitioner, I came across Abraham Hicks on YouTube. I think someone had recommended a particular video of theirs. I think I was about half way through my Life skills coaching training.
I watched as a lady took the stage ~ Esther Hicks and began speaking.
She was talking about herself, but not in the way I would tell a story about myself. It was as if it was someone else telling the story about her.
Needless to say, I was confused.
It turns out that the Abraham part of the relationship is not a human being. If I'm honest even now I'm not entirely sure what or who Abraham is.
It is my understanding that Abraham is a group of non-physical teachers who communicate through Esther.
As I said, at that time, I was confused.  It was way too much for me to take in. I couldn't understand it and to be honest I thought it was a bit weird and a bit nuts.
Skip forward a couple of years and I was well into my law of attraction practitioner training by then and not only had my knowledge of the law of attraction grown, which is basically what Abraham teaches through Esther Hicks, so had my belief that so much is possible that I don't need to understand or have answers for.
And so began my love of all things Abraham-Hicks.
If you're not yet familiar with Abraham-Hicks, just do a YouTube search and start watching the videos. You'll find loads.
They have a whole host of Abraham-Hicks books to choose from and even run cruises.
I'd love to hear from anyone who's been on a cruise as this is something I haven't done.
I'd love to hear your thoughts on Abraham-Hicks.
Just go ahead and leave me a comment below. I read every comment and always try to reply.
Happy Living
Wendy